Focaccia can be eaten many ways: plain, seasoned, filled with vegetables, prosciutto or cheese, or even sweet with chocolate cream.
Do you know that you can prepare focaccia without baking it? Yes you can! Here is my recipe for focaccia cooked in a skillet…like pancakes! You can make focaccia in a skillet when you don't feel like turning on the oven, especially on a hot summer day.
There's something extra special about bringing warm, homemade focaccia to the table.
I usually serve it as an aperitivo; you will certainly impress your guest with it. You can flavor it with olive oil (which keeps it moist) and top it with fragrant oregano or rosemary. You can also top it with ham and cheese to turn it into an appetizing lunch.
FOCACCIA IN PADELLA (FOCACCIA COOKED IN A SKILLET)
Preparation time: about 2 1/2 -3 hrs          Cooking time: 10 minutes                   Servings: 6-8 people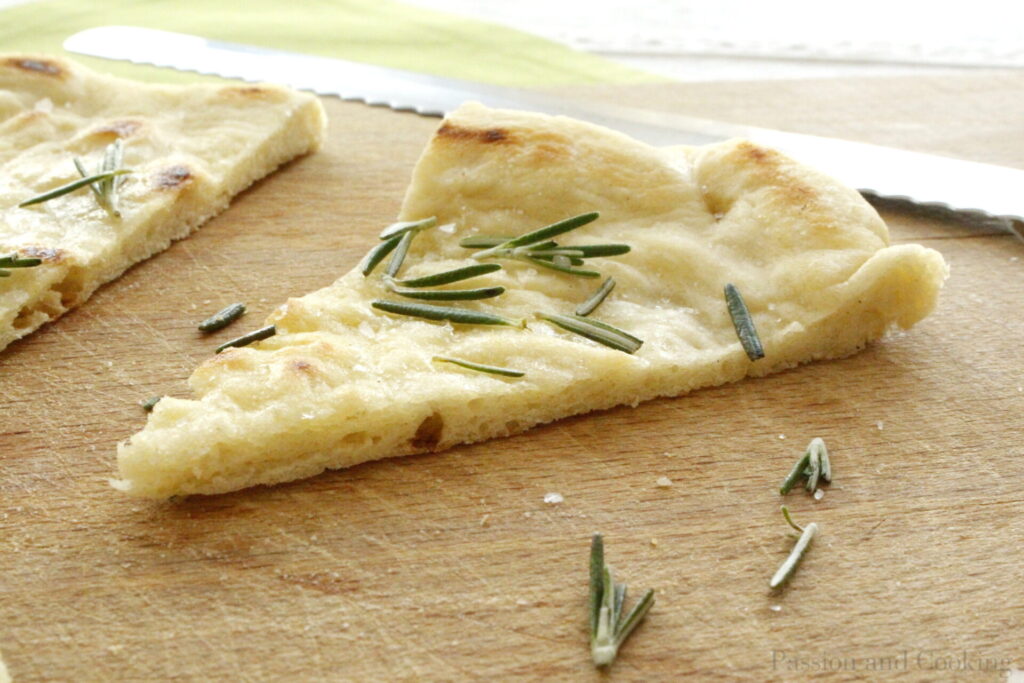 INGREDIENTS
480 g (3 ½ cups, 18 oz) high-gluten flour (Manitoba or pizza flour). For slow-rise dough use half Manitoba and half farina 0 (all-purpose flour)
300 ml water (about 1 1/4 cups ) at 30°-34°C, about 86°-90°F
10 g (2 teaspoons) sea salt
1 scarce tablespoon (10 ml) mild honey or sugar
1 package (5 g ; 1 heaping teaspoon) dried yeast or 1/2 cube (10 g; about 1/2 ounce) fresh yeast. For slow-rise – recommended – use half of the amount of yeast and let it rise for about 24 hours or longer (maximum 48 hours)
3 tablespoons olive oil (extra virgin)
Topping
Olive oil (extra virgin)
Oregano or rosemary
Sea salt
DIRECTIONS
1. In a small pitcher dissolve the honey in the water, then add the yeast and mix well. Sugar is the so called "nourishment" for yeast. Let it rest for 1-2 minutes. Remember never mix yeast and salt directly, because this will prevent the yeast from rising
2. In a bowl mix the flour and salt. Add the water to the flour and mix. Add the olive oil. Mix well until you have a smooth and even dough, but still a little bit sticky
3. Remove the dough from the bowl and turn it out onto a lightly floured surface; knead briefly for about 15-20 minutes. Add more flour if it is necessary
4. Lightly oil a big bowl and place the dough in, sprinkle some drops of olive oil on top. Cover with a cotton towel o better plastic wrap. Let rise in a draft-free place (about 30°C, 86°F) for about 60 minutes. For slow rice , that I usually do, let it rest in a cool place covered with plastic wrap for about 20-24 hours. then Remove the dough and knead for 5 minutes. Let it rest as above until doubled in size, at least 30 minutes
5. Divide the dough in 4-5 small balls. Pour a ball onto a floured wooden surface, sprinkle some flour on top, and form a flat thin disk
6. Heat over high heat a non-stick skillet (about 20 cm, about 8 inch), greased with olive oil, and place the dough into it. Turn down the heat over medium-low. Cook for a few minutes until some bubbles form on top. Turn and cook for 1-2 minutes. Like you cook pancakes
7. Remove from the heat. Brush with olive oil, a pinch of salt and garnish with rosemary or oregano
8. Cut in several slices and serve immediately. It is good warm
9. Repeat with the rest of the dough.
Note: The type of water is very important; the pH should be around 6. I usually use bottled drinking water to avoid having too much chlorine in the dough. The rising temperature is critical too, therefore place the dough in a draft-free place. Another important information is to never mix salt and yeast directly, because salt inhibits the action of the yeast. – Paola