Cinnamon rolls, delicious absolutely!
These rolls – packed with cinnamon filling and glazed with powdered sugar icing that sweetens every single bite – are deliciously irresistible. Their origin traces back to Sweden where they were called Kanelbulle, but now they are highly appreciated all over the world.
They are usually served hot for breakfast or you can also enjoy them on your coffee break. My recipe is simple and traditional, but you can enrich the rolls with raisins or chocolate chips, too. Another variation would be to glaze them with cream cheese frosting. My version features a classic milk-based glaze, avoiding too many extra calories and fat, and will keep the cinnamon rolls light, fragrant and tasty.
Every once in a while you need to have something to indulge in, especially for those moments in life that require something a little bit special.
CINNAMON ROLLS
Total preparation time: 2 ½ hours        Baking time: 20 minutes              Servings: 12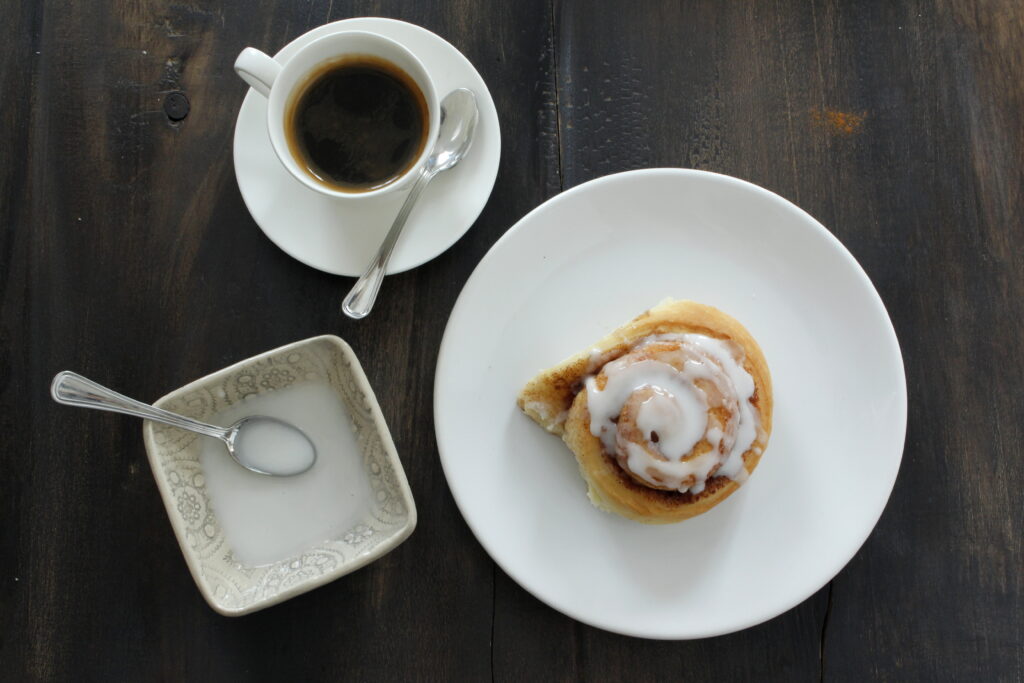 INGREDIENTS
Dough
620 g (4 1/3 cups) Mannitoba flour
60 g (¼ heaping cup) granulated sugar
5 g (1 teaspoon) dried yeast
5 g (1 scarce teaspoon) salt
120 ml (½ cup) water, tepid
120 ml (½ cup) whole milk, tepid
85 g (about 3 oz) butter
1 medium egg
Filling
120 g (½ heaping cup) brown sugar
15 g (1 tablespoon) cinnamon
15 g (1 tablespoon) melted butter
Glaze
170 g (6 oz) powdered sugar
Whole milk
DIRECTIONS
Dough
1. Melt the butter over low heat and then let it cool
2. In a bowl mix all the dry ingredients: flour, sugar, yeast and salt
3. In a bowl mix all the liquid ingredients: water, milk and egg, and then stir in the melted butter. Mix well
4. Add the liquid ingredients to the dry ones. Mix with a spoon
5. Transfer the dough to a work surface and knead by hand until you get a smooth and homogeneous ball. You can add a pinch of flour if necessary to work more easily. The dough is ready when it doesn't stick to your hands any more
6. Lightly butter a bowl and place in the dough. Cover with cling film and let rise for at least 35 minutes at room temperature
Filling
7. In a small bowl prepare the filling by mixing sugar and cinnamon
8. Place the dough on a work surface lightly dusted with flour. Roll with a rolling pin to form a rectangle 50X35 cm (about 20X14 inch)
9. Brush the dough with the melted butter and sprinkle with ¾ of the filling mix, spreading it over the entire surface
10. Roll the dough: start by gently lifting the bottom edge along the longest side. Then, roll up a little at a time, being careful to roll tightly and without crushing the dough. This will not only maximize the number of yummy cinnamon layers, but help the rolls hold their shape while baking and when serving
11. Using a sharp knife divide the roll in 12 equal slices. You can lightly shape them with your hands to make round
12. Butter a rectangle baking pan (about 30×20 cm, 12×8 inch), add the remaining filling
and place in all the rolls
13. Cover with cling film and let rest at room temperature for at least 35-40 minutes
14. Preheat the oven to 180°C (350°F) and set the oven rack in the middle
15. Bake for 20 minutes. Remove and let cool
Glaze
16. Prepare the glaze. In a small bowl mix the powdered sugar and milk, drop by drop until you reach a creamy consistency
17. Serve the cinnamon rolls with some glaze on top. Add the glaze only before serving. You can store them for 1-2 days in a closed container. – Paola