Ahhh! Springtime aromas are in the air! Homemade pasta with peas and asparagus is tasty, healthy and easy dish to prepare. The delicate taste of fresh peas and asparagus goes perfectly well with egg pasta, making this dish highly appreciated and certainly a success at the table, both for a family lunch or a dinner with friends.
Pasta with fresh vegetables is an excellent combination, something to add to your diet. Pasta is one of the most popular comfort foods in the world; we Italians cannot live without it! This is a recipe belongs to my book "The Mamma Mia! Diet".
Vegetables should be part of your daily diet because they are natural medicines.
Asparagus, indigenous to the Mediterranean area, comes in different colors and varieties: white asparagus (delicate flavor), violet (fruity taste) and green (sweet taste). In my recipes I mainly use the violet and the green varieties. Asparagus, belongs to the garlic and onion family and shares the same natural diuretic properties. It is, therefore, an ideal companion to remove toxins and keep your body clean. In addition, it is rich in anti-oxidants. It's one of the top ranked vegetables for its ability to neutralize cell-damaging free radicals, therefore to slow aging.
Peas, like all legumes, are little powerhouses of micro nutrients (vitamins, minerals and antioxidants), low in fat, rich in protein and fiber.
HOMEMADE "TAGLIATELLE" WITH PEAS AND ASPARAGUS
Total preparation time: 45 minutes (if you make fresh pasta)        Cooking time: 10 minutes           Servings: 4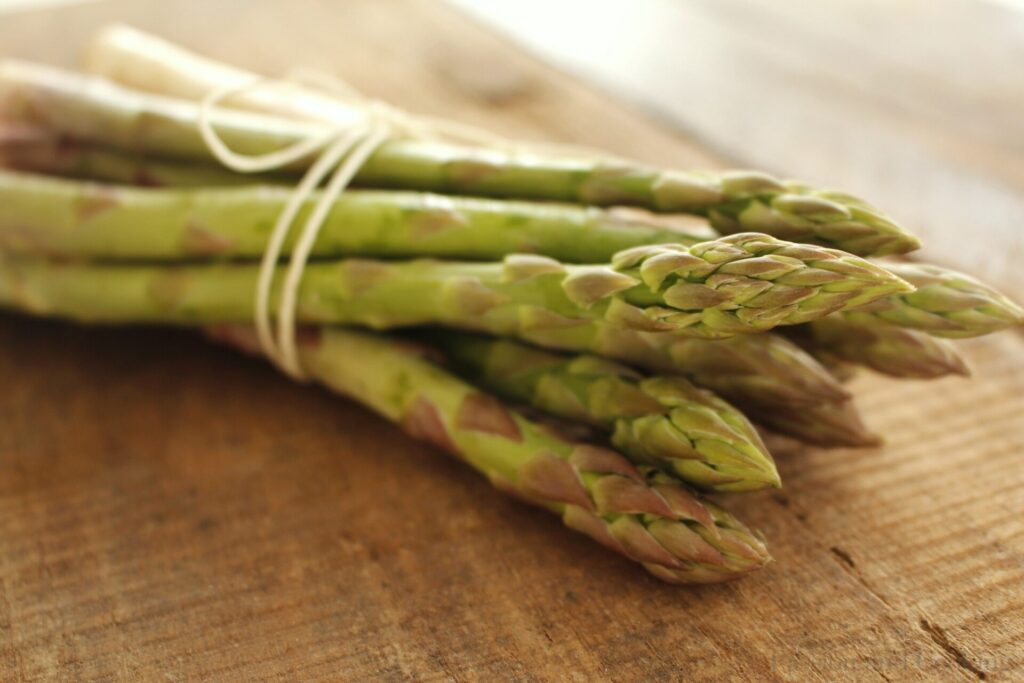 INGREDIENTS
400 g (14 oz) fresh tagliatelle pasta or 10 oz (280 g) dried ones
Homemade fresh tagliatelle
400 g (about 3 cups) Italian flour Grade 00 or all-purpose flour + extra flour for kneading
4 medium eggs, at room temperature
Sauce
300 g (2 cups) fresh peas
20 asparagus spears, cut into 4 cm (1 ½ inches) chunks
12 fresh basil leaves, torn into peaces
1 medium shallot, finely chopped
4 tablespoons extra virgin olive oil
240 ml (1 cup) vegetable stock
4 tablespoons grated Parmesan cheese
Sea salt and freshly ground pepper
DIRECTIONS
1. If you have no time, but it is fun activity!, you can also buy the tagliatelle. In case you want to try fresh tagliatelle here is my recipe. Prepare the tagliatelle. Place the flour in a volcano-shaped pile on a work surface (wood is the traditional material) or in a large bowl (it is easier) making sure that the "crater" provides a large enough well in the center to receive the eggs. Wash the eggs under running water, pat dry and crack into the well. Beat the eggs with a fork for 1-2 minutes, then gradually blend the flour into the eggs, starting from the inner wall of the well and continuing until all the flour and the eggs are completely combined. You have to add flour until the dough is no longer sticky (you may have to use extra flour depending on the absorption characteristics of the flour and on the temperature of the room). Knead the dough for about 10-15 minutes to form a smooth and elastic ball. This procedure helps develop the gluten in the flour, so your pasta will be springy and al dente when it is cooked.
Place the dough in a clean cotton dish towel or plastic paper to rest for about 20 minutes at room temperature. Divide your pasta in 4 equal parts and roll out one part at a time (keeping the rest in the dish towel until ready to work).
ROLLING OUT BY HAND. To roll out your pasta you need a wooden pin – mattarello. Dust each piece lightly with flour and roll out to the desired thickness; you should be pretty thin (1/16 inch or about 1.5 mm). Work quickly because the pasta dries much quicker than you might think. Starting with the short end, gently fold the dried sheet at 2-inch (5 cm) intervals to create a flat, rectangular roll. Cut the dough into 3/16-inch-thick or about 5 mm tagliatelle with a a sharp knife. Using your fingers unfurl the pasta, then transfer to a floured cotton towel.
ROLLING OUT BY MACHINE. A hand-cranked pasta machine is the best to use. Kids especially love this part. Start out using the widest setting. Run the pasta through for about 4-5 times until the dough is smooth. If the sheet tears dust it with flour. Continue to run each sheet through the machine, reducing the thickness a notch at a time, until you reach the desired thickness about 4-5 for tagliatelle (1/16 inch or about 1.5 mm, notch 4 or 5 out of 7). Cut the pasta into rectangular sheets (25×10 cm; 10×4 inch) and let them rest for a few minutes on a cotton dish towel. Then, use the tagliatelle setting. You can cook tagliatelle as soon as they are ready or you can dry the extra ones on a pasta drying rack and enjoy in the next days.
2. While the pasta is resting, prepare the sauce. Heat the olive oil in a saucepan and gently saute the shallot on medium-low heat until soft.
3. Add the peas and cook for 1-2 minutes at medium heat. Add the stock and pepper. Cover, then cook over a medium-low heat for about 10 minutes, they should be tender but not soft. The right cooking time it depends on the size of the peas and the thickness of their skin. If you use frozen peas, cook for 5 minutes with half of the stock. Add the asparagus and continue cooking without a lid, until most of the liquid has evaporated. A few minutes before removing from the heat add salt and basil. The asparagus should be crisp. Keep warm.
4. In a large pot bring to boil plenty of salted water. Add the fresh pasta and cook "al dente" for 3-4 minutes.
5. Drain the pasta, reserving about 60 ml (¼ cup) of the cooking water, add it to the vegetable sauce. Add the cooking water and toss gently.
6. Place the pasta on a serving plate and serve immediately with Parmesan cheese. – Paola