Spaghetti carbonara is a staple of the Italian cuisine that can be enjoyed all over the world. It is a rich first course that you can also enjoy as a main course preceded by a salad.
The origin of spaghetti carbonara is quite controversial: some relate it to the Umbrian Carbonari (members of the patriotic secret society of Carbon makers), who would have introduced it to the Romans in the early 19th century, others argue that the inventor was Ippolito Cavalcanti, a Neapolitan nobleman who published this recipe in his book. It is also said that spaghetti carbonara first appeared during the Second World War when the Americans brought large quantities of bacon and eggs to Italy, which were part of the military mess halls, or that inspired Roman cooks created this simple, quick to prepare and very tasty dish.
The traditional recipe calls for guanciale, a pork product prepared from pork jowl or cheeks. Its name derives from guancia, which means cheek. If you don't find it, you can substitute with cured bacon (not smoked). I also prepare it using a mixture of Parmesan and pecorino, because pecorino has a strong taste. The traditional recipe calls only for pecorino.
SPAGHETTI ALLA CARBONARA (CARBONARA SPAGHETTI)
Preparation time: 15 minutes          Cooking time: 10-12 minutes       Servings: 4-5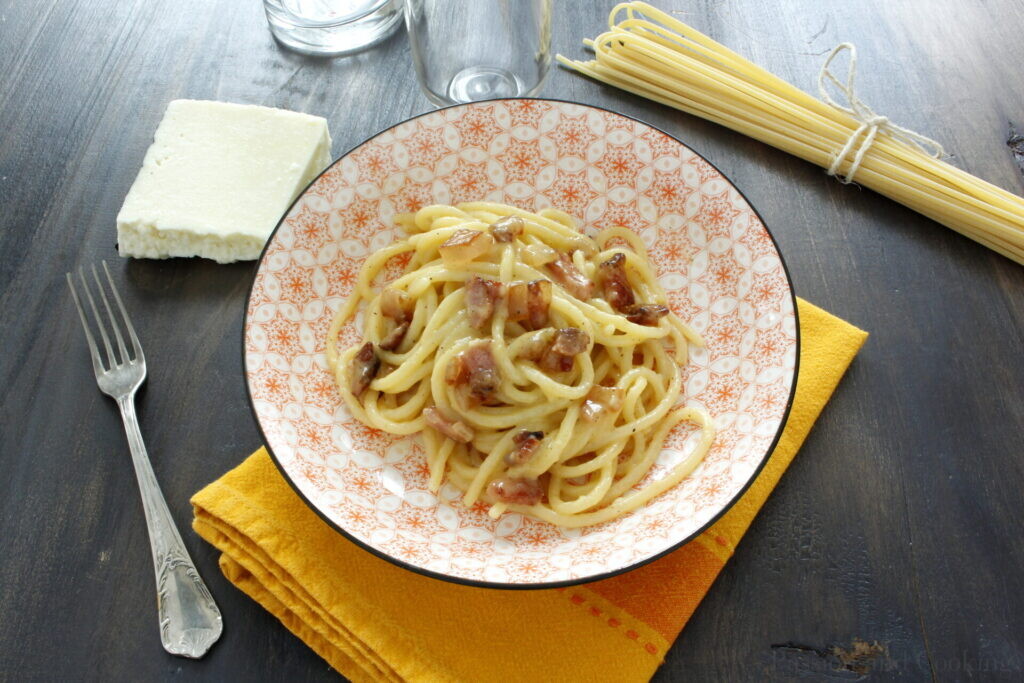 INGREDIENTS
320 g (11.5 oz) spaghetti
150 g (5 oz) guanciale or bacon (not smoked)
4 medium pasteurized eggs (3 yolks+1 whole egg)
40 g (scarce 1/2 cup) pecorino cheese, grated
40 g (scarce 1/2 cup) Parmesan cheese, grated
Freshly ground pepper
DIRECTIONS
1. In a large pan bring to boil plenty of water (I don't add any salt because it is already present in the sauce). Add the spaghetti and cook al dente for 10-12 minutes (the right cooking time is indicated on the package)
2. Meanwhile, cut the guanciale into small cubes. Heat a nonstick pan, add the guanciale and cook over medium-low heat until the fat is translucent (don't burn it). Remove the excess of fat and set aside the guanciale
3. In a large bowl beat 3 egg yolks and 1 egg with a whisk, add the cheeses and a pinch of pepper. Mix to have a creamy sauce
4. Drain the spaghetti, reserving 2-3 tablespoons of cooking water to add one by one to the sauce to make it creamy. Pour the spaghetti in a glass bowl or in the pan where you cook guanciale (it must to be cold), add the sauce and guanciale. Toss gently and serve immediately. You can sprinkle on top some Parmesan or pecorino cheese and freshly ground pepper. – Paola