With summer comes warmer weather and a rainbow array of nature's candy. That's right, I'm talking about berries – something to take advantage of!
This yogurt and berries treat is a healthy, simple and quick spoon dessert to serve on a warm summer's day.
In just 10 minutes, in fact, you can get these delicious cups, ideal for a rich snack or light dessert. It is composed of a crunchy layer of cookies, a layer of sweet and soft Greek yogurt and a delicious fresh-berry topping. I used strawberries and bluberries but you can also mix in or substitute with raspberries and blackberries too.
Berries are a good source of vitamins, in particular vitamin C, fiber and antioxidants. Bubleberries are one of the leading foods shown to fight aging, rich in many compounds that make your skin glow and look younger!
Greek yogurt is high in protein, calcium and probiotics. Just in one cup you can have a concentrate of health and colors to lift your spirit too!
DOLCE AI FRUTTI DI BOSCO E YOGURT (BERRIES AND YOGURT DESSERT)
Total preparation time: 10 minutes                       Servings:4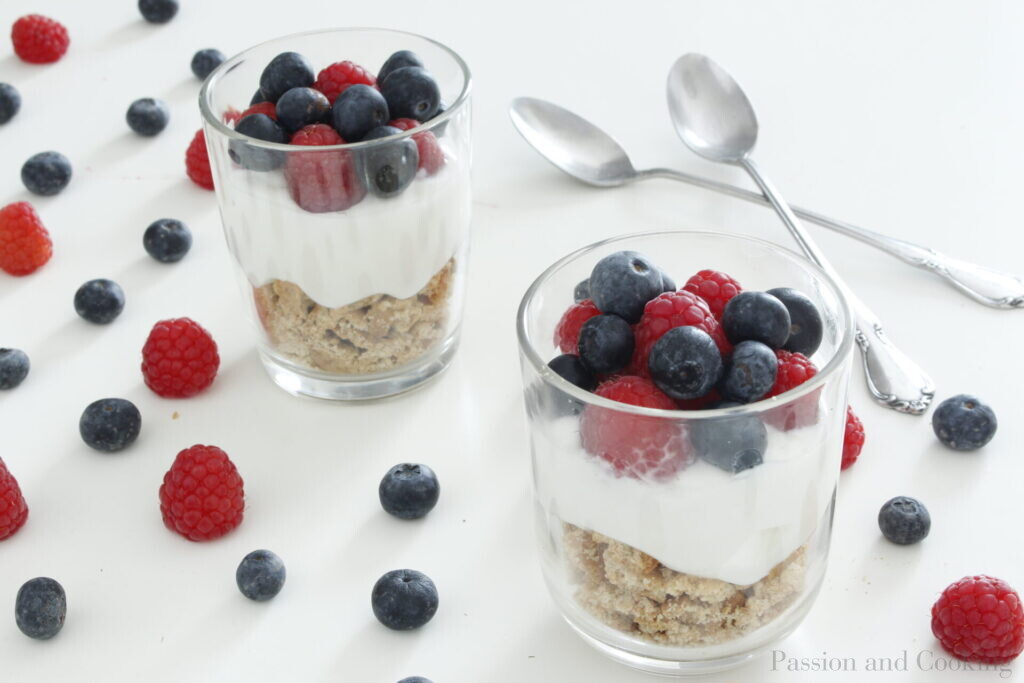 INGREDIENTS
140 g ( 5 oz) digestive cookies or muesli, broken in small pieces
500 g (18 oz) Greek yogurt
4-5 tablespoons powder sugar
20 fresh raspberries, washed and dried
20 fresh bluberries, washed and dried
DIRECTIONS
1. In 4 cups place an equal layer of crumbled cookies
2. In a bowl mix yogurt with sugar
3. Place a layer of yogurt on top of the cookies and decorate with fresh berries. – Paola