Love, sweetness and spiciness together? Yes it is possible with this cake prepared with chocolate and hot chili pepper, covered with strawberry coulis.
Chocolate is seductive and slightly mysterious; it has been called the "food of the devil". Chocolate and love result in the same good feelings and sensations in the brain.
Hot chili pepper increases blood flow and boosts your sexual desire. Therefore, this delicious and tasty cake is perfect to serve as dessert for the most intimate dinner of the year, on Valentine's Day!
The colorful and fruity addition of strawberry coulis gives a moist texture to this cake and adds a touch of red, symbolizing passion.
You can certainly impress your partner on such a special day, an experience for all senses! Happy Valentine's Day to all of my beloved readers.
TORTA AL CIOCCOLATO E PEPERONCINO (CHOCOLATE AND HOT CHILI PEPPER CAKE)
Preparation time: 1 hour        Baking time: 40-45 minutes                         Servings: 8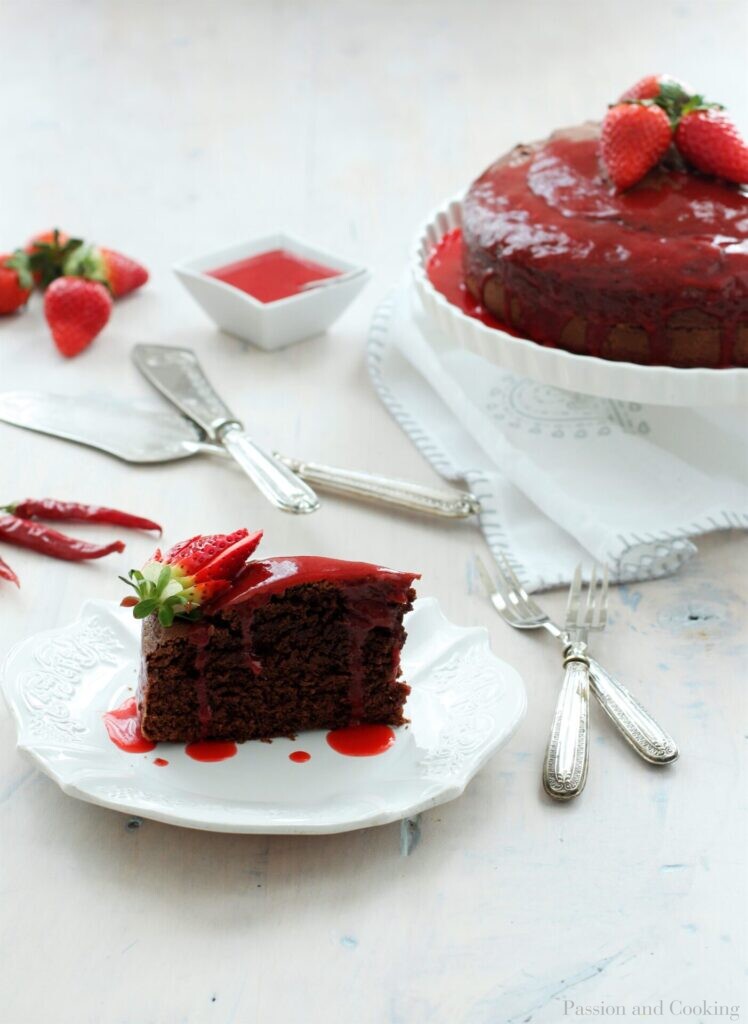 INGREDIENTS
Cake
120 ml (½ cup) whole milk
2 dried hot chili peppers
250 g (9 oz) dark chocolate (50%), chopped in chunks
140 g (5 oz) butter
250 g (1 ¼ cups) granulated sugar
6 medium eggs
1 teaspoon vanilla extract
250 g (1 3/4 cups) pastry flour
40 g (1.5 oz) cocoa powder
16 g (1 heaped tablespoon) baking powder
1 pinch salt
Coulis
400 g (14 oz) strawberries + some extra strawberries for decoration
½ organic lemon, juice of
4 tablespoons granulated sugar
DIRECTIONS
1. Preheat the oven to 180 °C (350 °F) and set the oven rack to the middle position. Grease and flour a 24 cm (10 inch) spring-form cake pan
2. Bring to simmer the milk, remove from the heat and break in the hot chili peppers, let rest for about 8-12 minutes, then filter. The soaking time can vary according to the taste you prefer, from mild to spicy
3. In a double boiler melt the chocolate and butter with the milk. Let it cool, stirring occasionally
4. Sift the dry ingredients: flour, baking powder, salt and cacao powder together
5. Beat the eggs, sugar and vanilla extract with an electric whisk until pale and creamy. Stir in the cooled melted chocolate, then the dry ingredients. Mix with an electric whisk at low speed
6. Bake for about 40-45 minutes. Test by inserting a wooden toothpick into the middle of the cake. If it is done, it should come out dry
7. Let cool on a wire rack for 10 minutes. Remove from the pan and let cool completely on a wire rack
8. While the cake is in the oven, prepare the coulis. Chop the strawberries in small pieces. Place in a saucepan then add the lemon juice and sugar. Over a medium high heat bring to boil. Cook for 3-5 minutes stirring occasionally. Puree with an electric whisk and pass through a fine-mesh strainer set over a medium-size bowl. Discard the seeds. Let cool and spread over the cake. Keep some to serve with the cake. You can decorate the cake with some fresh strawberries. – Paola