The Road of Love is through the Stomach
Only a few days to Valentine's Day on February 14th! This year it may be a little different, because of the pandemic that is afflicting the whole world. In Italy, especially in the region where I live – Lombardy – restaurants are still closed to the public in the evening, therefore you might celebrate at home with a romantic dinner, making the day extra special. Dedicating some time to preparing a meal for your partner is a great way to express Love.
Everything should be perfect, from the dinner menu to the selection of dishes, mise en place of the table, musical notes and magical atmosphere with candle light with dreamy scents. A touch of red will not hurt. Red is a powerful color, hot and steamy, that conjures up a range of passionate and intense emotions!
Composing a menu is somewhat like composing music: lots different elements have to come together in perfect harmony. A meal is like a piece of art, a complete symphony that stimulates all senses. Taste, aroma, color, texture, and sound should be part of the enjoyment. You can mix and match ingredients and recipes as long as you achieve an equilibrium.
Nowadays both men and women are likely to be competent in the kitchen and to enjoy cooking. You can have fun preparing your Valentine's dinner together, at least some of the last minutes dishes like risotto, for example. Cooking together increases physical and mental intimacy. When cooking together, you're enjoying your time with your loved one and creating visceral memories through smells and tastes that can be recreated and recalled with strong fondness. Cooking together is all about making a connection with your partner, and it isn't always about sex (although sometimes it is!).
Prepare these Italian aphrodisiac-infused recipes, and your romantic evening will surely go off without a hitch. Shellfish, seafood, chocolate, hot chili pepper, strawberries and champagne have a mix of several chemical compounds that boost sensual drive. It is wonderful to be in love! Happy Valentine's Day!
Menu
Aperitif
Beetroot chips served with Negroni Sbagliato

Something red and sweet just to set the atmosphere
At the table
Starter
Prawns wrapped in Parma Prosciutto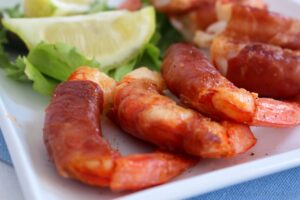 First course
Main course
Grilled tuna steak with poppy seeds
and Balsamic vinegar glaze
Mixed salad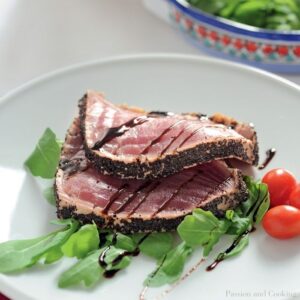 Dessert
Chocolate and hot chili pepper cake
Strawberry coulis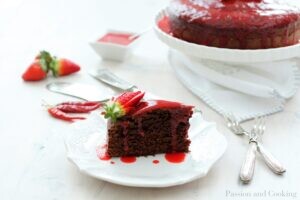 Italian espressso
Digestivo Liqueur
Mirto from Sardinia