Goat milk jello is a lighter version of the well known Italian dessert panna cotta. Typically it is served with berries, caramel, chocolate sauce or fruit coulis and because of its great versatility it is possible to create a different topping every time. It is up to your creativity.
July is the season of apricots in Italy, so I prepared a delicious coulis to enjoy with the jello. I used goat milk instead of cow milk because it is suitable for people with lactose intolerance and may help reduce cholesterol levels in people with high blood cholesterol.
It is very easy to prepare; you do not need special skills, and you have only to use a few tricks. The ingredients are few and easy to find, such as goat milk, vanilla and sugar. Gelatin, the so-called – fish glue – in Italian (mainly from pork cartilage, bones, etc..) is commonly used. I prepare a healthier recipe suitable for vegetarians, as well.
I replace gelatin with agar-agar, a vegetable derivative with a strong gelling activity. Agar-agar is obtained from red algae and is used as a vegetarian substitute for gelatin and as a thickener for soups, as well as in fruit preserves, ice cream and other desserts, if you prefer using gelatin, the amount is different: 3- 4 g agar-agar to 8 g gelatin.
GELATINA DI LATTE DI CAPRA (GOAT MILK JELLO)
Preparation time: 8 minutes           Cooling time: 4-5 hours             Servings: 4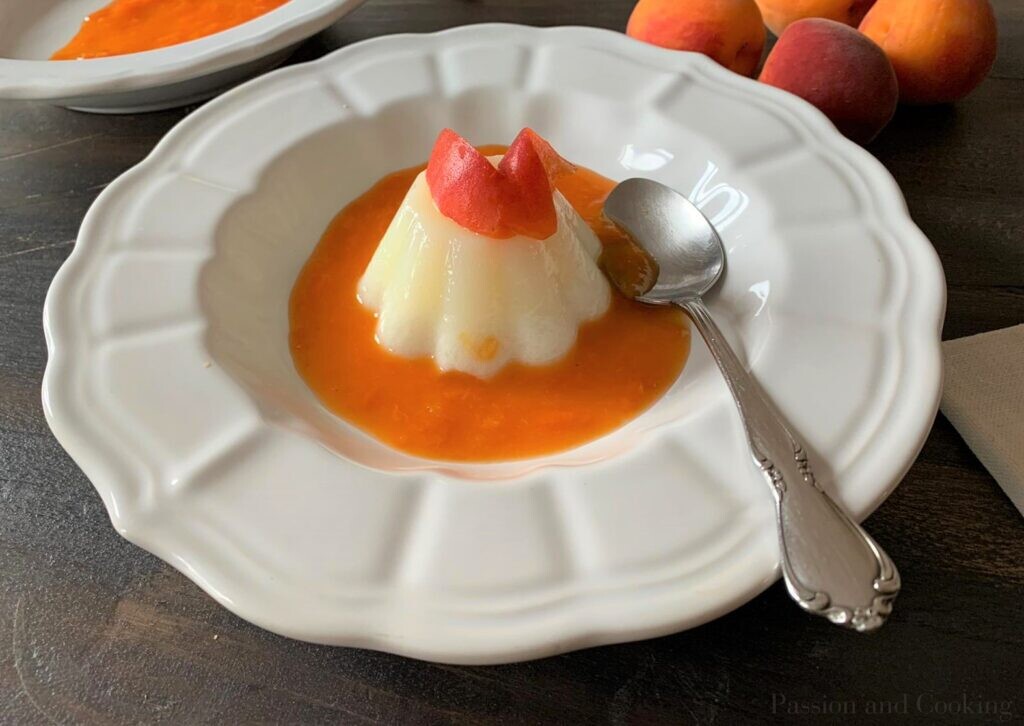 INGREDIENTS
500 ml (about 2 cups) goat milk
70 g (2.5 oz) granulated sugar
Seeds from 1 vanilla pod, split lengthwise (seeds scraped out)
2 ½ -3 g (about ½ teaspoon) agar-agar
Coulis
6 apricots
1 tablespoon sugar
3-4 tablespoons water
½ teaspoon organic lemon juice
DIRECTIONS
1. In a small container (for example 1/2 cup) mix well the sugar and agar-agar
2. Place the milk in a saucepan with the sugar mix and vanilla seeds
3. Mix well with a whisk and heat to reach about 80 °C (175 °F). Cook for 3-4 minutes on a medium-low heat
4. Place in 4 different silicone molds and let rest in the fridge for about 4-5 hours
You can also use different types of material for the molds. To unmold the milk from aluminum molds (or other metal) it is enough to dip them in boiling water for a couple of seconds. If you use plastic molds instead, wet the molds before filling them with the mixture, it seems that this helps. Much simpler instead is working with silicone molds; in fact in this case just press from the outside and the jello slips out very easily. If this does not happen, place for about 10-15 minutes in a freezer.
5. Prepare the coulis. Wash, dry and cut in small pieces the apricots, reserving one for decoration. Place in a saucepan, add the sugar, water and lemon juice. Cook for 5-8 minutes at medium heat. Puree with a food processor. Let it cool.
6. Turn the jello out on a plate and garnish with the coulis and some fresh apricot.
Note: Please read carefully on the package the proportion liquid/agar-agar, because it may vary from brand to brand. You can use goat cream for a richer taste. – Paola