This pumpkin quiche is delicious vegetarian dish to add to your autumn menu. The sweetness of pumpkin paired very well with the sharp flavor of goat ricotta and feta.
Pumpkin is a nutritious, versatile and delicious vegetable – you can enjoy it in many recipes, both sweet and savory. Pumpkin is, this time of year, the queen of the table. I love it and use it for many recipes, to be honest, the consumption also roasted alone. My favorite variety is the zucca di Mantova (from the city of Mantua), cucurbita maxima, which I use in most of my recipes because it is very tasty and contains little water. If you cannot find it you can substitute it with butternut squash, which has a similar texture.
It is the fairy tale's magic ingredient par excellence – we can recall the Cinderella's carriage and the Jack O'Lantern for Halloween. This recipe could be an idea to serve on your Halloween party.
QUICHE CON ZUCCA, RICOTTA DI CAPRA E CIPOLLE ROSSE (PUMPKIN, GOAT CHEESE AND RED ONIONS QUICHE)
Total preparation time: 1 ½ hrs                       Baking time: 40 minutes                          Servings: 6-8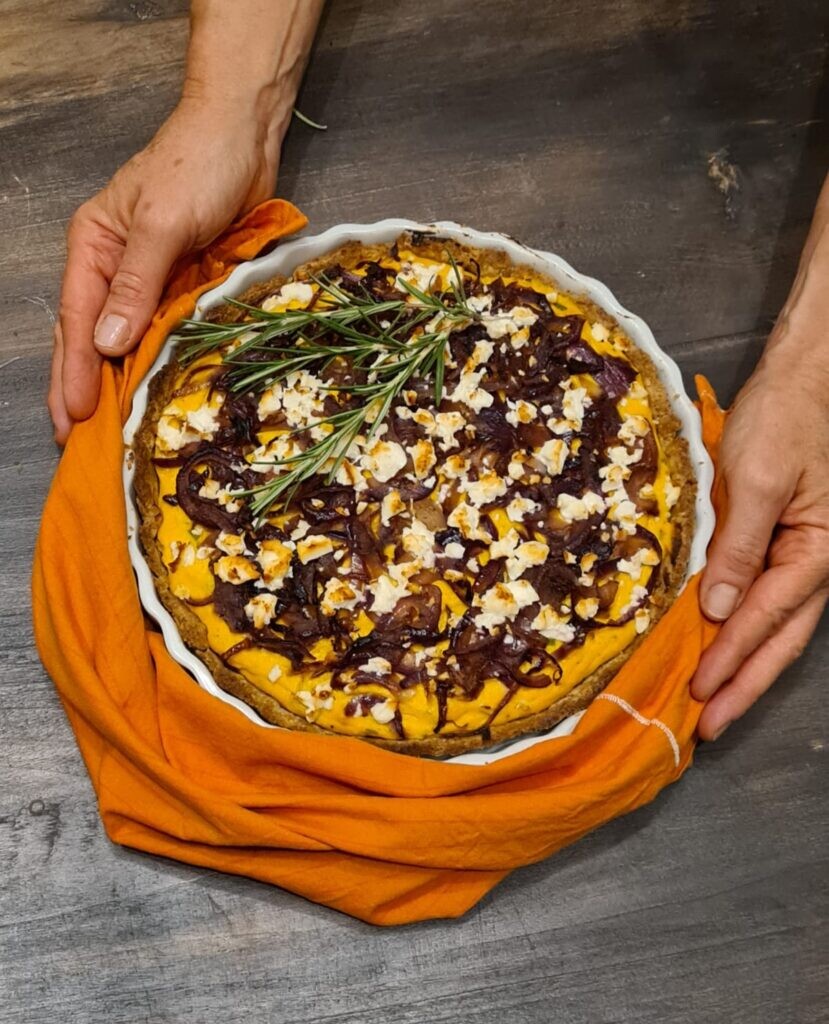 INGREDIENTS
Crust
200 g (2 cups) whole grain flour
90 g (about 3 oz) cold unsalted butter, cubed
1 medium egg
½ teaspoon salt
Filling
750 g (27 oz ) whole pumpkin, about 500 g (18 oz) pumpkin puree
250 g (9 oz) organic goat ricotta from Casale Roccolo
1 large red onion, peeled and finely sliced
1 medium egg
4 tablespoons grated Parmesan cheese
2 sprigs of rosemary, finely chopped
Sea salt and freshly ground pepper to taste
2 tablespoons extra virgin olive oil
100 g (3.5 oz) feta, crumbled
DIRECTIONS
1. Prepare the crust. In a large bowl sift the dry ingredients (flour and salt). Add the butter and work with a pie cutter until the mixture is sandy. Add the egg, working first with a spoon and then with floured hands, form a ball. Wrap in cling film and leave in the refrigerator for about 20 minutes
2. Prepare the filling. Cut and clean the pumpkin removing the seeds and filaments. Steam in a pressure cooker for about 8-10 minutes (according to the size of the peaces). Remove the skin and mix in a food processor. Add the ricotta, the egg, Parmesan, rosemary, salt and pepper to taste
3. In a skillet sautè the onion with olive oil until soft. Add salt and pepper to taste
4. Preheat the oven to 200°C (400°F) and set the backing rack to the middle
5. Remove the dough from the refrigerator. Spread with a rolling pin on a floured surface with 2-3 mm (inch) thickness. Transfer the dough into a ceramic pan (25 cm, 10 inch) in diameter, puncture the bottom with the tines of a fork, pour in the filling and level
6. Cover with the onions and the feta. Bake for about 20 minutes, then reduce the temperature to 180°C (350°F) and bake for extra 20 minutes. Remove and place on a cooling rack. Serve warm. – Paola