Lasagne, one of the most popular Italian dishes, has a long and interesting history.
Bolognese recipe, typical from Emilia Romagna, traces its origins no further than the start 19th century when some restaurants in Bologna (Emilia Romagna) began serving this dish to their clients. It was an instant hit! Since then this recipe has been one of the symbols of Italian cuisine and is very popular all over the world, and in my family it is always on the table at Christmas.
To prepare good lasagna the most important thing is the choice of the ingredients: first of all the Bolognese sauce (ragù) should be made using half beef and half pork meat, the tomatoes should be very juicy and tasty, and homemade pasta certainly gives this dish a special flavor and texture that you will not experience using pre-packed pasta. Making fresh, homemade pasta is not too difficult; it's fast and lots of fun!!!
Green lasagna is made adding spinach powder to your pasta. You can also use fresh spinach juice (about 3 tablespoons) but you have to change the proportion egg yolk/egg white, using 2 whole eggs and 1 egg yolk.
I remember that I loved to make fresh pasta as a kid with my mom, my aunts and my grandmother. It was so much fun kneading the dough; it's something creative, productive and educational to do with your kids. You can enjoy this recipe either as a first course or a main course, and it is also a perfect party dish to serve at family gatherings. MERRY CHRISTMAS! BUON NATALE!
LASAGNE VERDI AL RAGU' (GREEN LASAGNA WITH BOLOGNESE SAUCE)
Total preparation time: 2 ½ – 3 hours           Baking time: 30-35 minutes                  Servings: 4-6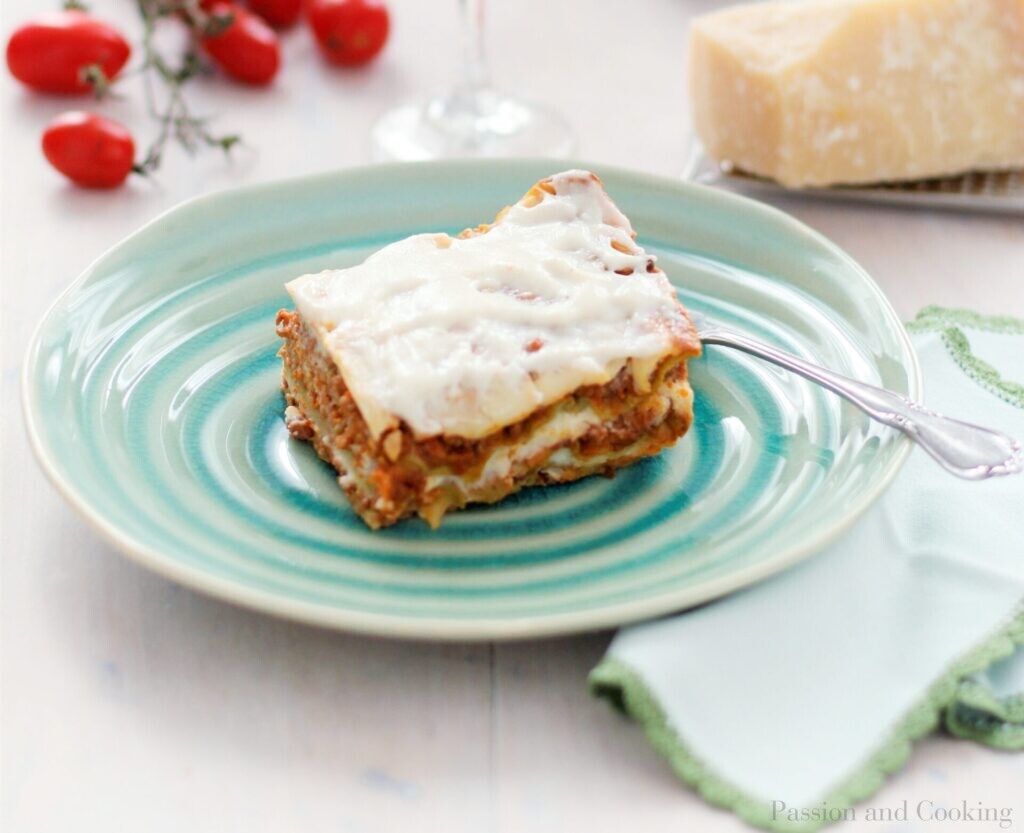 INGREDIENTS
Bolognese sauce
30 g (2 tablespoons) unsalted butter
80 g (¼ lb) mild sausage, cut in small pieces
1 large onion, finely chopped
1 large carrot, peeled and finely chopped or diced
1 celery stalk, finely chopped
2 minced garlic cloves
225 g (½ pound) ground beef chuck
225 g (½ pound) ground pork
120 ml (½ cup) red wine
240 ml (1 cup) beef stock or simply water
1 can (about 450 g, 1 pound) peeled whole tomatoes
120 ml (1/2 cup) tomato sauce (passata di pomodoro)
4-5 tablespoons cream (optional)
Salt, freshly ground black pepper and freshly grated nutmeg to taste
Pasta
300 g (2 cups) all-purpose flour or Italian flour grade 00
3 medium eggs
25 (1 ½ tablospoons) spinach powder
Besciamella
1 liter (1 quart) whole milk
100 g (2/3 cup) all-purpose flour
1 pinch of sea salt and freshly ground pepper to taste
100 g (3.5 oz) smoke Caciocavallo, finely sliced
DIRECTIONS
1. Prepare the Bolognese sauce. In a large heavy saucepan over medium heat, sauté the butter and the sausage for 3 minutes, stirring constantly. Add the onion, and when it begins to soften, add the other vegetables. Sauté over low heat for 8 minutes until golden, stirring constantly
2. Add the ground meat and continue cooking for about 10 minutes
3. Add the wine and increase the heat to high to evaporate the alcohol. Cook until the liquid completely evaporates
4. Add the tomatoes, tomato sauce and the stock. Reduce the heat to low and cook for about 1 ½ -2 hours, stirring occasionally until thick. The traditional ragù can cook for several hours (about 3 ½ – 4 hours). You can also prepare one day in advance
5. Remove from heat and add the cream (optional)
6. Season with salt, pepper and nutmeg
7. Prepare the pasta. Place the flour mixing with the spinach powder in a volcano-shaped pile on a work surface (wood is the traditional material) making sure that the "crater" provides a large enough well in the center to receive the eggs. Crack the eggs into the well. Beat the eggs with a fork for 1-2 minutes, then gradually blend the flour into the eggs, starting from the inner wall of the well and continuing until all the flour and the eggs are completely combined. You have to add flour until the dough is no longer sticky (you may have to use extra flour depending on the absorption characteristics of the flour and on the temperature of the room). Knead the dough for about 15 minutes to form a smooth and elastic ball. This procedure helps develop the gluten in the flour, so your pasta will be springy and al dente when it is cooked.
Place the dough in a clean cotton dish towel or plastic wrap to rest for about 20 minutes at room temperature. Divide your pasta in 4 equal parts and roll out one part at a time (keeping the rest in the dish towel until ready to work).
ROLLING OUT BY HAND. To roll out your pasta you need a wooden pin – mattarello. Dust each piece lightly with flour and roll out to the desired thickness; you should be able to see your hand through it. Work quickly because the pasta dries much quicker than you might think.
ROLLING OUT BY MACHINE. A hand-cranked pasta machine is the best to use. Kids especially love this part. Start out using the widest setting. Run the pasta through for about 6-7 times until the dough is smooth. If the sheet tears dust it with flour. Continue to run each sheet through the machine, reducing the thickness a notch at a time, until you reach the desired thickness (notch 8 out of 10), you have to see your hand through it. Cut the pasta into rectangular sheets (20×10 cm; 8×4 inch)
8. Prepare the besciamella. In a medium saucepan mix the milk and the flour well with a whisk until smooth. This will prevent any lumps from forming. Cook for 3-4 minutes over medium-high heat, stirring constantly with a wooden spoon. Lower the heat as soon as the mixture reaches a slow boil and then continue to cook for about 8-10 minutes, stirring constantly to the right thickness (smooth and creamy). Stir constantly to ensure that it doesn't stick or burn. Add a pinch of salt and pepper.
Remove the saucepan from the heat
9.Preheat the oven to 180°C (350°F) and set oven rack to the middle position
10. In a baking pan (25×20 cm; approx. 10×8 inch), spread a paper-thin layer of the Bolognese sauce. Arrange pasta sheets side by side, covering with the Bolognese sauce and a layer of besciamella. Spread some of the Parmesan and Caciocavallo evenly on top. Repeat this process until you have a total of three layers of pasta and finish with the remaining besciamella. Bake for about 30-35 minutes, until top is brown and bubbly (or if you buy the lasagne pasta, follow the suggested baking time on the lasagne package). Let it rest at room temperature for about 8-10 minutes before serving. Sprinkle some Parmesan and on top and serve.
Note: If you use dry lasagne pasta, cook in boiling water for a few minutes according to the instructions on the package. – Paola