This delicious dessert is one of my winter favorite cakes, sweet but with a tart flavor typical of kiwi and citrus. You can enjoy it for breakfast (Italian breakfast) and tea time. It could be a nutritious snack for kids, not too sweet and rich in good calories.
Kiwi and oranges are excellent sources of vitamin C, a water-soluble anti-oxidant, which neutralizes free radicals. Free radicals can cause damage to cells and lead to problems such as inflammation and cancer. Kiwi are also rich in minerals (such as potassium, good alley against water retention) and fiber.
I recommend starting your day by adding fresh kiwi to your breakfast: kiwi's vitamin C, improving digestibility, fatigue recovery, intestinal function and skin care, is attractive – it makes you healthier and beautiful at the same time.
This recipe belongs to my book the Mamma Mia! Diet, therefore the imperial measuraments are indicated first.
TORTA CON I KIWI ED ARANCE (KIWI AND ORANGE CAKE)
Total preparation time: 1 hour                Baking time: 45-50 minutes              Servings: 5-6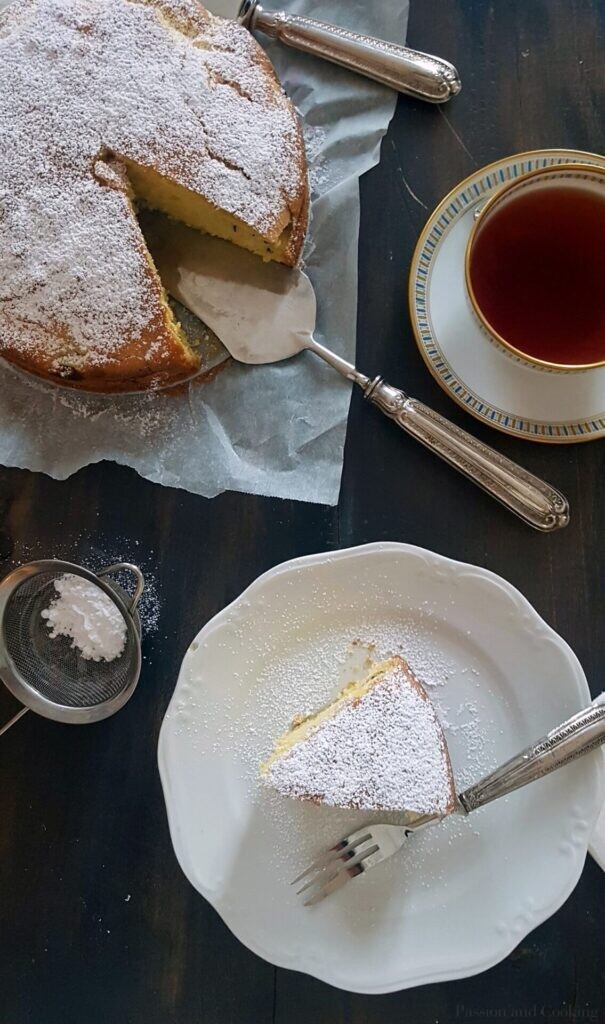 INGREDIENTS
5 medium kiwi, peeled and finely sliced
1 medium organic orange, juice + zest
2/3 cup (140 g) granulated sugar
2 medium eggs
1 teaspoon vanilla extract
2.5 oz (70 g) unsalted butter, melted
½ cup (125 ml) plain yogurt
1 scarce tablespoon (12 g) baking powder
¼ teaspoon (1,5 g) baking soda
1 heaping cup (150 g) spelt flour or pastry flour
2/3 cup (95 g) corn starch or potato starch
Powdered sugar for decoration
DIRECTIONS
1. Preheat the oven to 350°F (180°C). Butter and flour a 9 inches (about 23 cm) spring-form pan and set oven rack to middle position.
2. In a bowl mix the kiwi slices with the orange juice. Set aside.
3. In a bowl cream the sugar and the eggs with an electric whisk until pale yellow. Add the butter, vanilla extract, orange zest and yogurt. Mix well to blend all the ingredients.
4. Sift the flours and the baking powder together. Slowly add it to the batter. Add the orange juice from the kiwi, one spoon at a time. Mix well. The batter should be creamy
5. Scrape 1/3 of the batter into the pan, place the kiwi on top, equally distributed. Add the remaining batter.
6. Bake for 45-50 minutes, until golden brown on top.
7. Remove from the oven and let cool on a cooling rack for 5 minutes. Then, remove from the pan and let it cool completely on a cooling rack. Before serving dust with a thin layer of powdered sugar.