Beans and chicory salad: This is a great autumn-winter salad when chicory is in season.
Beans are legumes with a remarkable nutritional profile: good source of vegetable protein, vitamins (folate, B1 and B6), minerals (iron and potassium), and fiber that act as prebiotics in your gut. Beans are low in fat. They are called the poor's man meat, due to their nutritional value.
The borlotti beans are a variety of the cranberry beans bred in Italy to have a thicker skin. They are pinkish-brown in color with reddish-brown streaks and commonly used in the Italian cuisine.
Chicory (Cichorium intybus) is a plant that is widely grown in Europe. The chicory herb is yet another plant that has been in use since ancient times. Chicory greens are similar in flavor to dandelion greens and can be boiled and sauteed with olive oil and garlic which helps eliminate some of the bitterness it has when eaten raw.
While chicory root inulin may have a significant value as a fat-replacer in foods, it can also increase the added fiber content of foods and helps promote healthy digestion.
This recipe belongs to my book : Honestly Healthy, Salads and Smoothies for every day meal. 
INSALATA DI FAGIOLI E CICORIA (BEANS AND CHICORY SALAD)
Total preparation time: 30 minutes            Cooking time: 25 minutes                     Servings: 4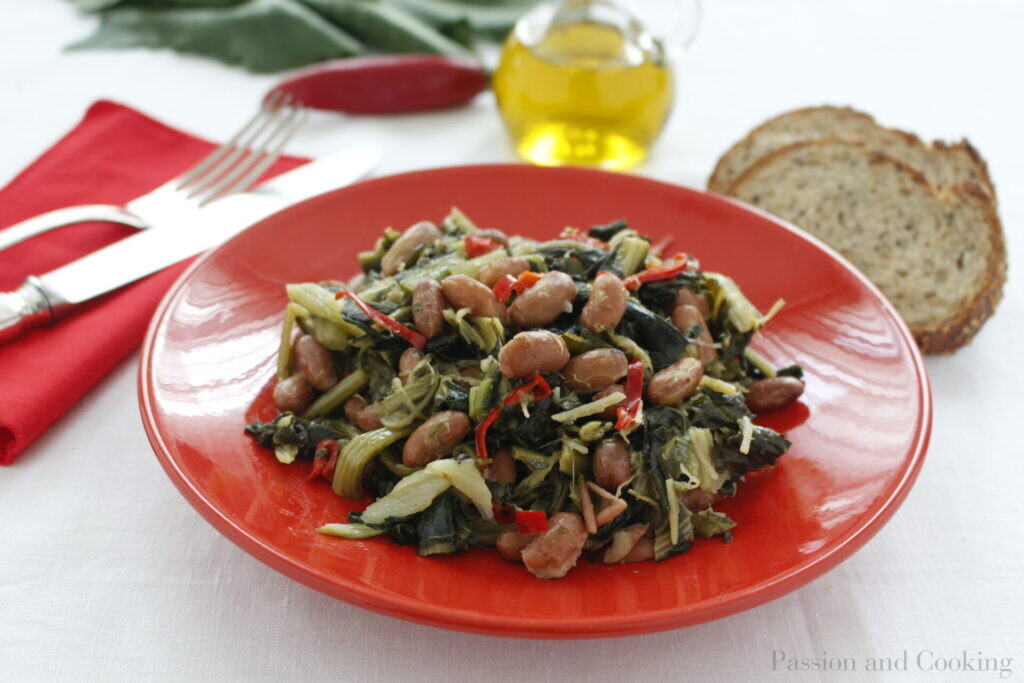 INGREDIENTS
800 g (28,5 oz) chicory
400 (14 oz) cooked borlotti beans
3 garlic cloves
1 hot fresh chili pepper, finely chopped
2-3 anchovies, finely chopped
4-5 tablespoons extra virgin olive oil
Sea salt to taste
DIRECTIONS
1. Wash chicory with plenty of water to remove any grit.
2. Boil chicory in salted water until fully tender, about 10-15 minutes. Drain, squeeze and chop it roughly.
3.In a large nonstick pan sauté garlic, anchovy and pepper in olive oil. Remove garlic when it is golden brown (but not burned).
4. Add chicory to oil and cook for about 5 minutes.
5. Add beans and mix well gently avoiding to break them.
6. Taste and adjust for seasoning, and serve warm or room temperature. A drizzle of olive oil doesn't hurt. – Paola