Are you ready for an Aperitivo? Discover all the secrets behind this staple of Italian culture.
Here is my article for Nosetta – Lake Como artisanal handbag brand:  light and functional products that last; a refined style that is both casual, yet meets the needs of everyday life: attentive to seasonal trends, but even more to living well and to a socio-environmental awareness.
We are happy to meet Paola Lovisetti Scamihorn, an authentic culinary expert. She illuminates the local culinary scene through her inspiring blog "Passion and Cooking.", her cooking classes and her books.
Immersed in the magical backdrop of Como, Paola draws inspiration from local culinary roots, skillfully celebrating fresh ingredients and artisanal preparations that evoke the true essence of taste.
With her passion for tradition and innovation, she shares authentic recipes and captivating stories that transform simple ingredients into genuine culinary experiences. Today, Paola will unveil all the secrets of aperitivo, taking inspiration from this extraordinary journey of conviviality, flavors, and unique tastes. Are you ready to immerse yourself in the fascinating world of aperitivo? Let's join Paola and embark on this unforgettable culinary adventure together!
Ciao Paola! Let's start with a fundamental question: what does the word "aperitivo" really mean, and what role does it play in this tradition?
Aperitivo, etymologically, means something that "opens the way." This definition is reflected in the practice of aperitivo, which usually involves a cocktail (alcoholic or non-alcoholic) or a glass of wine before dinner, precisely to stimulate the appetite. Besides being a moment of conviviality, aperitivo also has an important enogastronomic function. It is the perfect opportunity to savor a variety of flavors accompanied by creative snacks and refreshing drinks, thus preparing the palate for the upcoming meal.
It's interesting to note how aperitivo has gained international renown.
Can you explain how this tradition has spread and captured the hearts of people worldwide?
Aperitivo is an ancient Italian tradition that has managed to captivate an international audience. Its popularity is due to a combination of factors. On one hand, Italy is renowned for its gastronomic culture and culinary heritage, which has always fascinated travelers from every corner of the globe. On the other hand, aperitivo offers a unique experience where you can savor local delicacies accompanied by quality beverages, all in a relaxed and convivial atmosphere. This combination of elements has contributed to the worldwide spread of aperitivo, making it a beloved and appreciated practice even beyond Italian borders.
Now let's talk about the regional variations of aperitivo. Can you give us some insights into the style of aperitivo in different Italian cities?
Like many Italian food customs, the style of aperitivo varies from region to region. For example, Milan is famous for its lively aperitivo scene. The bars come alive and offer a wide selection of high-quality food and drinks. In the south, it may be more challenging to find a traditional aperitivo with a buffet, but the trend is gaining traction. Cities like Venice, Rome, Florence, and Naples offer aperitivi with breathtaking views, providing a unique experience for food and beauty enthusiasts.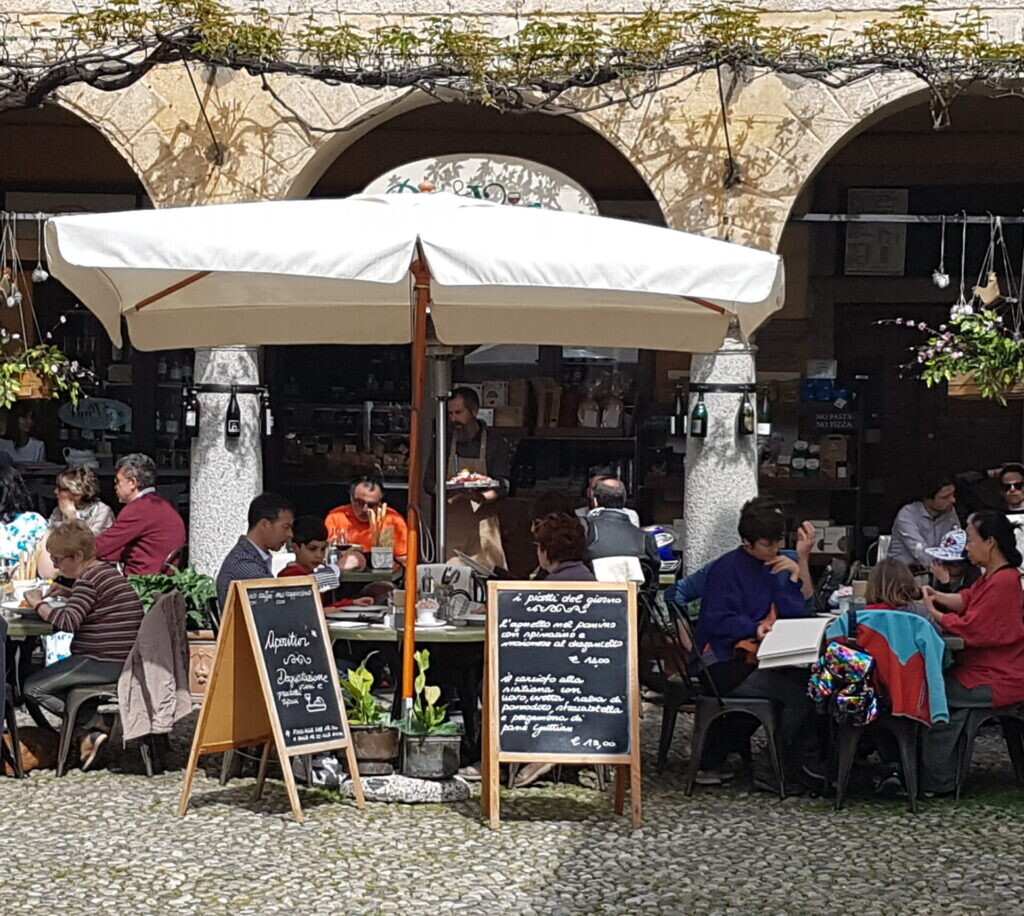 Paola, can you explain what a homemade aperitivo means and how it works?
It's the perfect solution when you don't want to organize a formal sit-down dinner but still want to invite friends for an informal and relaxing moment on the weekend. It involves a standing aperitivo, centered around a good bottle of sparkling wine, mixed drinks, cold appetizers, and a dish prepared on the spot. The goal is to warm the soul and add a little extra happiness to our lives!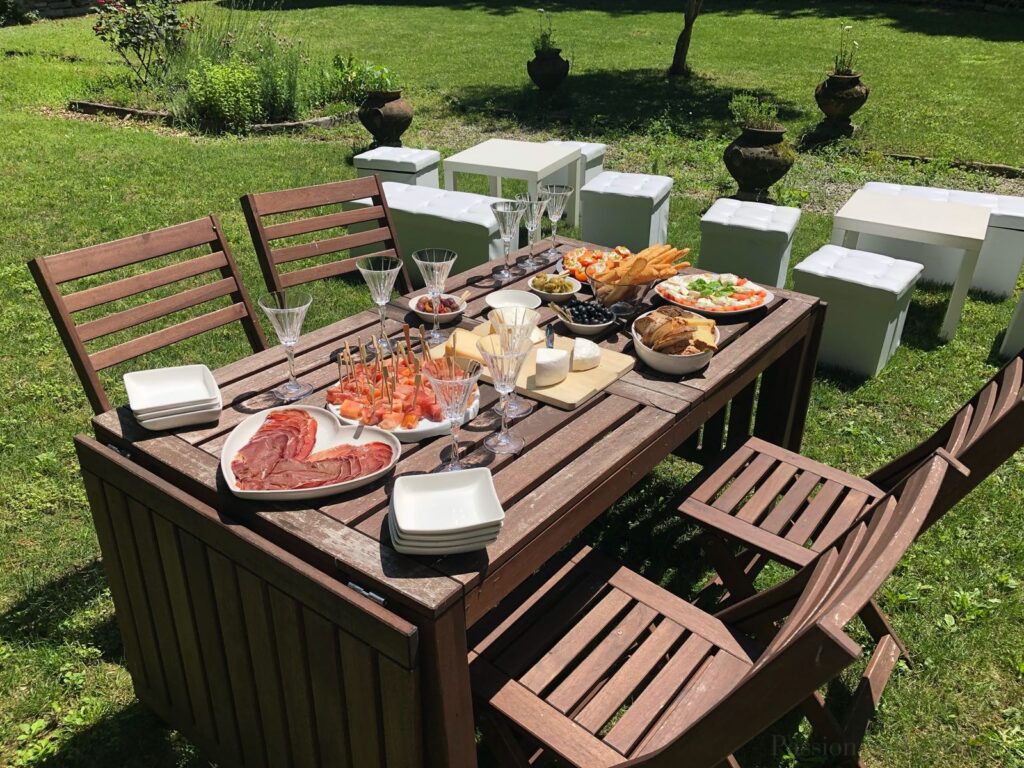 What are the advantages of hosting a home aperitif instead of opting for a traditional dinner at a restaurant?
There are several advantages to organizing a home aperitif. Firstly, homemade food is definitely healthier compared to eating out. By having control over the selection of ingredients, we can opt for a balanced and nutritious diet. Additionally, people today increasingly appreciate this informal way of socializing. Standing around, sipping a drink—alcoholic or non-alcoholic—and chatting with people, perhaps even in the kitchen while preparing dishes, can be a fun and engaging experience. Cooking together can also be part of the entertainment, creating a casual and relaxed atmosphere. Hosting friends at home doesn't have to be complicated; it can simply be a way to enjoy their company. Don't worry if something isn't perfect because you will be appreciated for the willingness to invite, not for impeccable silverware! It's really fascinating how a home aperitif can offer a unique and informal experience.

Do you have any tips for those who want to host a home aperitif?
My main advice is to plan ahead. Decide what you would like to serve in terms of both drinks and food, and make a list of the necessary ingredients. Choose cold appetizers that can be prepared in advance and require little time to serve. Also, make sure you have a good selection of beverages, including non-alcoholic drinks for those who prefer not to drink alcohol. And remember, you don't have to do everything alone! Involve your friends in the preparatios by asking them to bring a dish or a drink to share. A home aperitif is an opportunity to have fun together and create a welcoming and informal atmosphere.
Now let's talk about sustainable aperitifs. What is the concept behind this trend, and what are the advantages of opting for a sustainable aperitif?
The sustainable aperitif is a trend that is becoming increasingly popular, especially among millennials who are increasingly interested in environmental sustainability. During the summer, when the days are warm and invite us to spend time outdoors, many people look for green places to relax and enjoy a sustainable aperitif. This type of aperitif is characterized by the use of genuine and healthy ingredients, such as fruits and vegetables from sustainable farming. The goal is to create a food and wine experience that is friendly to health, beauty, and the environment. In addition to the benefits to our health, opting for a sustainable aperitif allows us to contribute to the preservation of the environment by reducing the ecological impact related to food and promoting sustainable agricultural practices.
What are the steps to follow in organizing a sustainable aperitif?
Organizing a sustainable aperitif requires some attention, but it is simpler than you might think. Let's start with the choice of ingredients: opt for organic and locally sourced products, prioritizing seasonal fruits and vegetables from sustainable farming. You can also try to reduce the use of single-use plastic by using biodegradable or reusable cups, plates, and cutlery. Additionally, try to promote conscious consumption by avoiding food waste and encouraging your guests to do the same. Finally, you could also consider choosing an outdoor location surrounded by nature, allowing you to enjoy a more relaxing and sustainable atmosphere.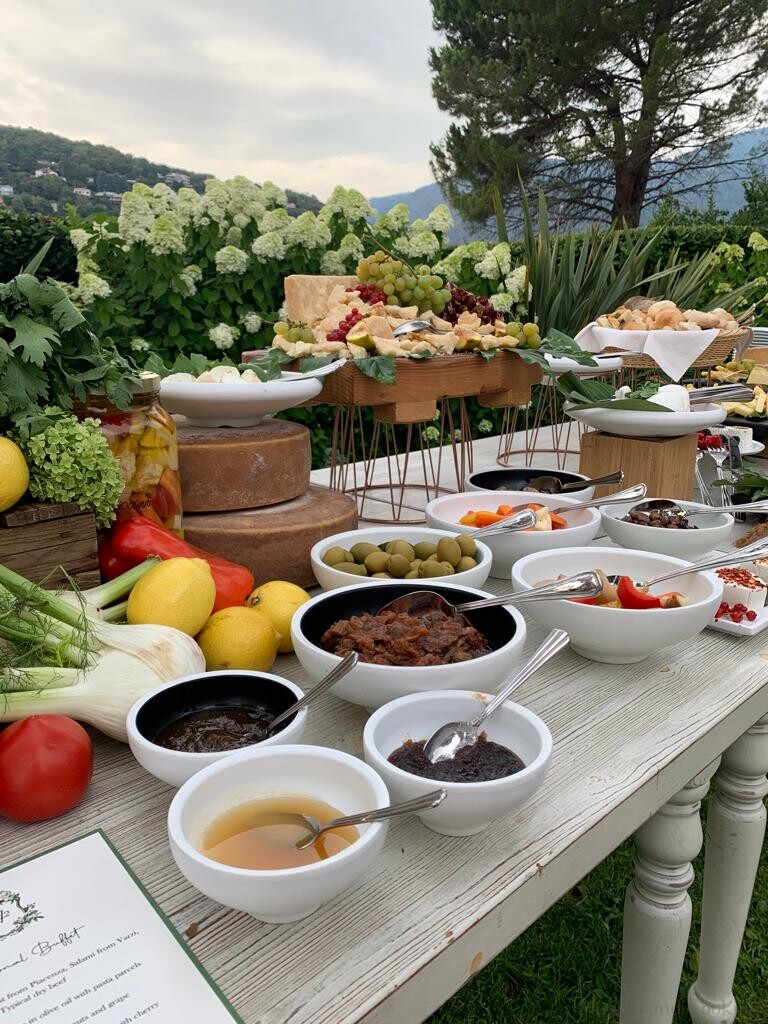 What are the benefits, besides sustainability, of opting for an aperitif immersed in nature?
Opting for an aperitif immersed in nature offers numerous benefits. Firstly, it allows us to spend time outdoors, enjoying the physical and mental well-being benefits that the natural environment can provide. Secondly, it gives us the opportunity to connect with nature and appreciate the beauty and richness of our surroundings. Furthermore, a natural setting contributes to creating a relaxing and pleasant atmosphere, perfect for enjoying an aperitif with friends and loved ones.Any recommendations for aperitivos on Lake Como?
Discover Breathtaking Panoramic Terraces at Lake Como!
If you're passionate about aperitifs with breathtaking views, you can't miss the wonders of Lake Como and it is the opportunity to visit esclusive hotels. In this dream destination, you can experience moments of pure pleasure and relaxation accompanied by the best aperitifs in the area.
These are very few names but there really many that are worthy the experience.
Terrazza 241 Bar – Hilton Hotel – Como
Located in the city of Como, this place offers a unique view and a selection of artisanal cocktails and gourmet snacks.
Fresco – Como
Historically the best cocktail selection in town. You can always challenge the barman to create something special according to your taste or let him surprise you. The lakeview is missing but the quality of their drinks will be worthy.
CO.MO Bar & Bistrot – Mandarin Oriental – Torno. In this fabolous historical villa the terrace offers a truly spectacular panoramic 180° view of Como Lake. The charming barman Gabriele is one of the best of the area. Let him suggest your choice.
Bar Manzoni – Grand Hotel Victoria – Menaggio. A lovely garden with tables and an impressive designer indoor bar where customers can enjoy their aperitivos. It's the perfect place for the summer (and winter) months!
Kincho – Sheraton Hotel – Como In an elegant wooden structure by the pool immersed in the lush vegetation of the hotel's private park, there is the opportunity to enjoy a wide selection of drinks and an excellent selection of pairings since there is a dedicated kitchen.

Lo Scalo – Cremia. Overlooking the former Cremia boat yard you can have a exquisite experience contemplating the beauty of Lake Como. It is a less touristy section of the lake. Perfect to enjoy deeply the Italian experience.
Terrazza Darsena – Villa Serbelloni – Bellagio. In an elevated position, at the entrance to the Villa, the place is a landmark for the village. Anybody who enjoys sipping a cocktail overlooking the lake, perhaps with a beautiful sunset with the Swiss Alps on the horizon.
Vineria Vitani – Como. This is the ultimate experience for a wine lover. In the most unique street of Como the winestore has a rare selection of Italian and Internation wines that makes it perfect for a vertical and horizontal tasting. Food becomes secondary.
Of course there is a last question! What is your favorite Nosetta bag?
I have a favorite one, the Celesia in Herringbone cotton-linen that is my partner for the summer. It is very elegant and lightweight. Very easy to match with more classy ore more casual outfits. For sure in the summer I cannot deny the importance of having a clutch bag that is very confortable to carry around when you do not need many things with you, especially when you go for an aperitivo or doing my shopping for making an aperitivo at home. "
Thank you Paola for all the insights on the aperitivo and in particular on Lake Como. You are always enriching. Next topic together?