Quinoa, avocado and mango salad is one my favorite exotic salads. It is a tasty, healthy and EASY meal to prepare. It is worth to try!
Quinoa provides essential vitamins, minerals, and fiber. It helps regulate the digestive system and keep you fuller and more satisfied. In addition quinoa is gluten free, therefore suitable for people who are allergic to gluten. There are hundreds of cultivated types of quinoa, but the most common versions available in stores are white, red, and black quinoa.
Avocado is tasty and beneficial to one's health and beauty. Hemingway called it: food that has no rival among the fruits, the real fruit of paradise. It is rich in vitamin A and E (which have high antioxidant properties), minerals and good fatty acids but provides a lot of calories. So use it in moderation.
Mango is rich in fiber, vitamins, minerals, carotenoids and polyphenols (powerful antioxidants). It is therefore a perfect anti-aging fruit which also helps maintain a healthy and young skin. I love it in my smoothies too.
INSALATA DI QUINOA; AVOCADO E MANGO (QUINOA, AVOCADO AND MANGO SALAD)
Total preparation time: 30 minutes        Cooking time: 20 minutes                Yields: 4 servings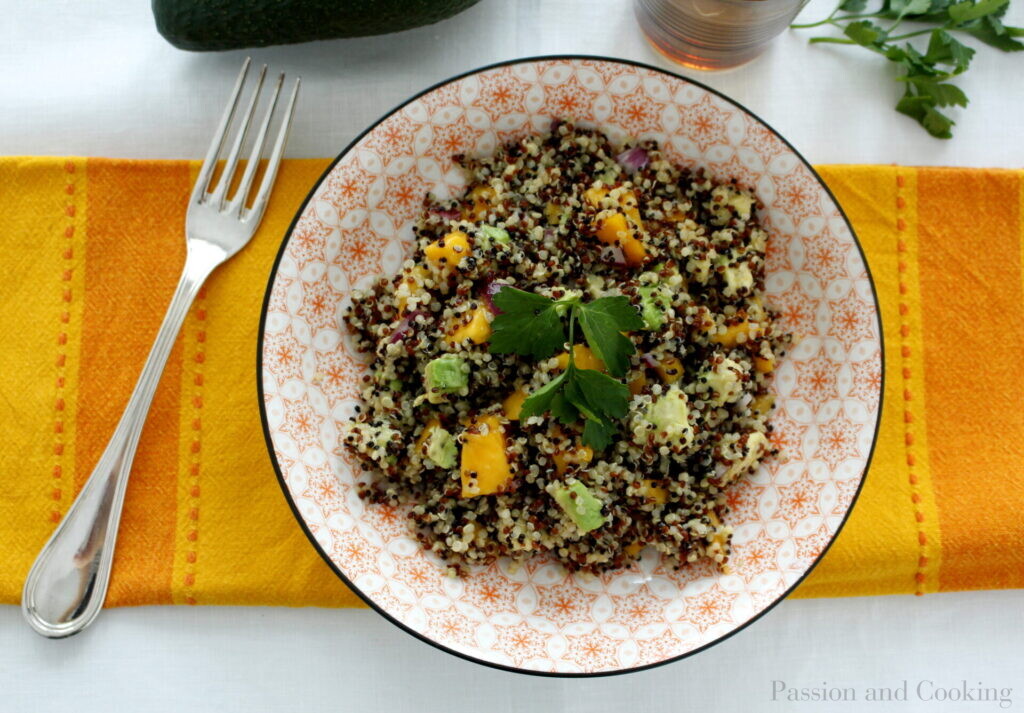 INGREDIENTS
300 g (11 oz) quinoa
1 tablespoon extra virgin oil
1 large mango, diced
1 medium ripe avocado, diced
1 small red onion, diced
Fresh parsley for decoration
Dressing
Zest and juice of one organic lime
3 tablespoons extra virgin olive oil
1 teaspoon honey
1 tablespoon chili sauce
Sea salt and freshly ground pepper
DIRECTIONS
1. Rinse quinoa several times under cold running water to remove some of the bitter flavor. Transfer to a pot and add salted water (1 cup of quinoa, 1 ½ cups of water. 1 cup is equal to 240 ml). Place over a medium heat and bring to the boil. Reduce to a simmer for 10 to 15 minutes, or until tender and the liquid is absorbed. Add one tablespoon of olive oil and make it fluffier with a fork. Set aside until cold.
2. In a small bowl prepare dressing by mixing all ingredients.
3. Clean mango and avocado removing skin and central core. Dice and sprinkle a few drops of lime on avocado to prevent darkening.
4. In a large bowl combine quinoa with mango, avocado and onion.
5. Pour dressing over the salad and mix gently. Decorate with parsley. Serve immediately. – Paola