Aperitivo time – Do you want to surprise your guests with a homemade aperitivo?
The preparation is of these mini strudel is quick and simple, and I recommend using puff pastry to speed things up. The traditional strudel dough is made of flour, oil and water and is pulled very thin, until it's almost transparent; this is the secret and also the hardest part! You can use the filo dough too. Robiola is an Italian soft-ripened cheese of the Stracchino family made with varying proportions of cow's, goat's and sheep milk. I love goat robiola, is very tasty and healthy. My favorite one is the organic one from Casaleroccolo!
Franciacorta Satèn (Lombardia) is the perfect wine to pair with this recipe. This recipe belongs to my last book – Aperitivo, the Italian Happy Hour!
MINI STRUDELS WITH VEGETABLES AND ROBIOLA CHEESE
Total preparation time: 35 minutes          Baking time: 15-20 minutes      Servings: 8 mini strudels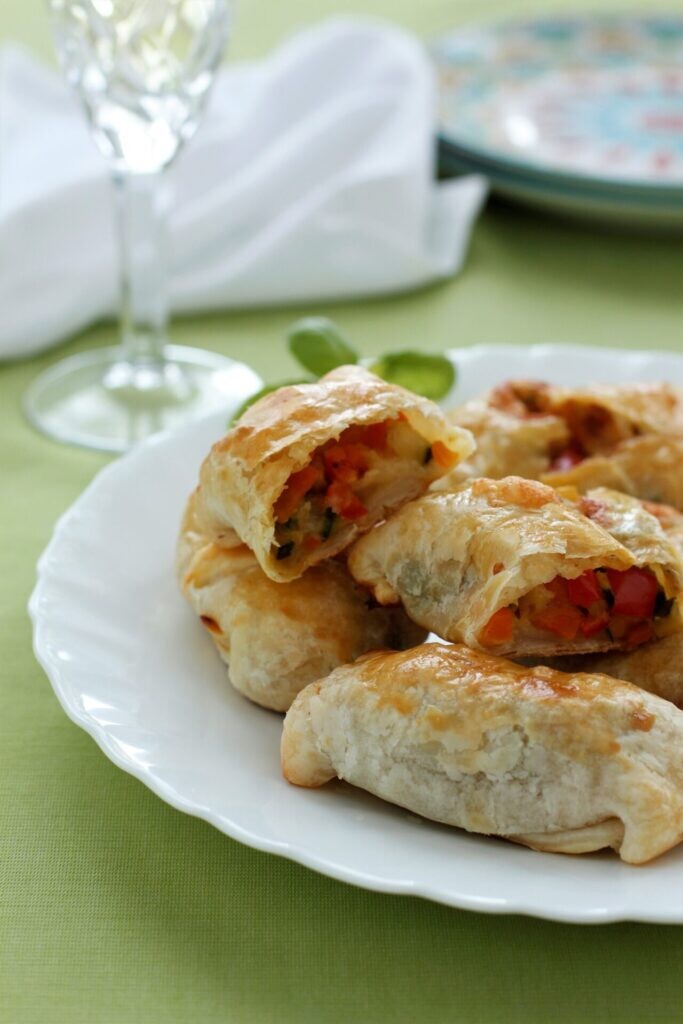 INGREDIENTS
1 medium red onion, finely chopped
200 g (7 oz) zucchini, cut into small cubes
200 bell peppers (7 oz), cut into small cubes
200 g carrots (7 oz), peeled and cut into small cubes
3 mint or basil leaves, chopped
5 tablespoons of extra virgin olive oil
100 g (4 oz) organic goat robiola, soft cheese
3 tablespoons grated Parmesan cheese
Sea salt and freshly ground pepper
230 g (8 oz) puff pastry (rectangular)
1 beaten egg
DIRECTIONS
1. Preheat the oven to 200 °C (400°F) and set backing rack to middle position.
2. In a non-stick pan sautè the onion over medium-low, just until soft. Add the carrots and peppers. After a few minutes (about 5) add the zucchini, salt and pepper to taste. Cook for about 5-7 minutes, vegetables should be crunchy. At the end add the mint. When done, drain the vegetables on paper towels to remove excess olive oil.
3. Place the puff pastry on parchment paper and stendere fine. Cut 8 rectangular strips about 8×15 cm (3×6 inch).
4. Place 2 tablespoons of vegetables in the center of each rectangle and cover with some robiola, sprinkling some Parmesan on top.
5. Close in a bundle by folding the long sides first inside and then the shorter ones. Turn the bundle so that the closure is downwards and with a sharp knife make 2 cuts on the surface in order to let the moisture out.
6. Brush the surface with the beaten egg and bake on a backing sheet cover with parchment paper for 10-15 minutes (depending on your oven). Then, turn down the temperature to 180°C (350°) and bake for 5-8 minutes more.
7. Remove from oven and let stand on a rack for a few minutes. Serve warm. – Paola