This savory pie is a classic rustic recipe, an irresistible dish that appeals to everyone, even to those who do not like vegetables. It is a perfect dish that can be served for a light lunch or snack to to enjoy with a cocktail. It is also a great idea for summer picnic or cook-out.
The dough is similar to that one of rustic pizza with the addition of grated Parmesan cheese that makes the crust more crispy and tasty. The filling is prepared with spinach, ricotta cheese, onion, parmesan cheese, toasted pine nuts and fontina cheese. Fontina is an alpine cheese made in Valle D'Aoosta since the 12th century, a very good choice for fondue, as well. The result is a tasty combination of different flavors: ricotta has a mild taste, while Parmesan and fontina have a more distinct one. We should remember that spinach is a vegetables rich in precious minerals such as iron and magnesium, therefore a good choice for both children and adults.
TORTA DI RICOTTA E SPINACI (RICOTTA AND SPINACH PIE)
Preparation time: 60 minutes   Cooking time: 40 minutes   Servings: 6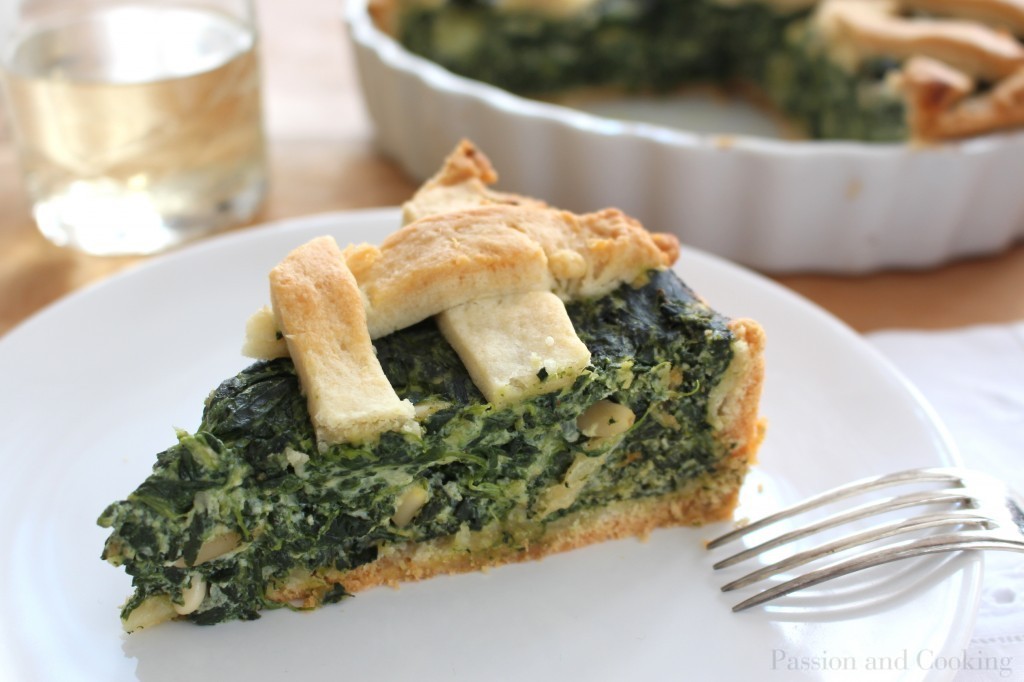 INGREDIENTS
Dough

320 g (2 1/4 cups) flour 00
25 g (¼ cup) grated Parmesan cheese
1 teaspoon of salt
1 teaspoon of sugar
5 g (1 teaspoon) baking powder
170 g (1/2 cup + 4 tablespoons) cold butter, cut into pieces
70 ml (scar 1/3 cup) cold water
Filling
1 Kg (36 oz) fresh spinach
2 tablespoons extra virgin olive oil
1 medium onion, finely chopped
500 g (16 oz) ricotta cheese
1 egg
100 g (1 cup) grated Parmesan cheese
50 g (1/3 cup) pine nuts
50 g (1/3 cup) fontina cheese, cubed
Salt and freshly ground pepper
Pinch of nutmeg
DIRECTIONS
1. Preheat the oven to 180 °C (350°F)
2. Prepare the dough according to the recipe of pizza rustica with the addition of 25 g (¼ cup) of grated Parmesan cheese to the flour
3. Clean, wash and cook for a few minutes spinach in very little water over medium heat. Drain and wring out well
4. Sauté the onion in olive oil over medium-low heat until it is soft and translucent. Add the spinach. Season with salt, pepper and nutmeg
5. In a large bowl beat the egg with the ricotta. Add the Parmesan cheese. Stir and add the spinach, pine nuts and diced fontina
6. Spread the dough in a baking dish (follow directions on pizza rustica). Pour the mix of spinach and ricotta. Cover with crossed strips of dough
7. Cook until golden brown, about 40 minutes. It is delicious warm, but it is also good cold the next day.
Note: You can replace the spinach with Swiss chard (using only the leaves). Paola