Stewed artichokes are a delicious contorno (side dish) to prepare either in autumn or in spring when they are in season. The addition of orange peel, fresh mint and parsley adds a special taste to this dish. Artichokes are widely cultivated in the Mediterranean basin and Italy is one the major producers.
The cynara cardunculus (the botanic name) was well known by the ancient Greeks and Romans. In the past they have been a typical farmers' meal because they were easily available. The taste, kind of bitter-sweet, is part of the specialness of this vegetable. It is rich in minerals and cynarine, a liver-protecting compound. There are different varieties according to the presence or absence of spines, the color (purple or green) and the season during which they are cultivated (autumn or spring).
Preparation of this dish is very simple, while the taste is flavorful and appetizing. You can use both globe artichokes (typical from Rome) or Tema artichokes (typical from Tuscany) which are the ones I used when preparing this post. Another tasty way to enjoy artichockes is Lasagna with artichockes!
CARCIOFI STUFATI (STEWED ARTICHOKES)
Total preparation time: 35 minutes                 Cooking time: 30 minutes                        Servings: 4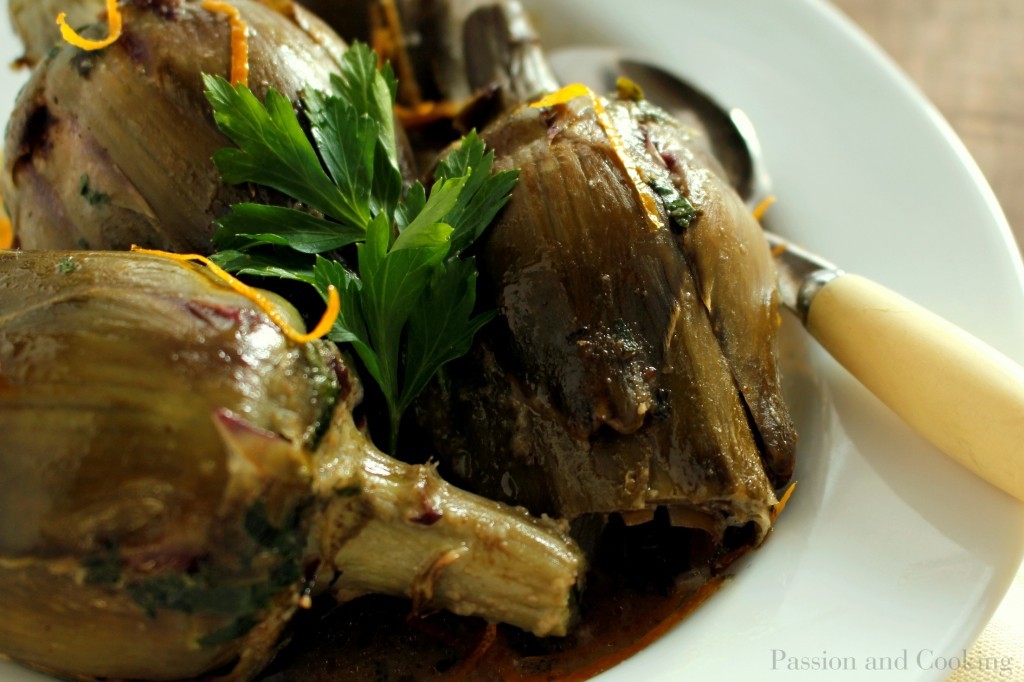 INGREDIENTS
6 artichokes without spines
1 lemon
1 garlic clove, finely minced
1 tablespoon mint, finely chopped
1 tablespoon parsley, finely chopped
1 orange peels
Salt and freshly ground pepper
120 ml (1/2 cup) olive oil (extra virgin)
DIRECTIONS
1. Remove the outer leaves of the artichokes using a sharp, solid paring knife starting from the wide base and going around with a spiral movement like you are peeling an apple. Cut away a part of the long stem leaving only 4 cm (1 1/2 inch). Slice off about 2 cm (¾ inch) the top of artichokes. Wash under running water and place immediately in a large bowl with water and 1 tablespoon lemon juice to prevent discoloration. Continue with the rest of artichokes. Let soak in the water for a few minutes.
2. Place the artichokes in a casserole pan with tall sides. Add olive oil, garlic, mint, parsley, and orange peel. Cook over medium-low heat for a few minutes. Add some water until half of the artichoke head is covered.
3. Season with salt and pepper. Cover and cook for about 30 minutes. Check for doneness with a fork – they should be tender but not soft. Serve at room temperature with some juice from the pan. Paola