Lasagna with artichokes is appetizing dish, a vegetarian alternative to the traditional lasagna with bolognese sauce, something I like to prepare for a Sunday family lunch on a meat-free day. Actually you can enjoy it the next day for lunch too … if there is some left over, which I doubt! Lasagna is a pasta dish that it is good when you re-heat it the next day, because the flavors have a chance to blend well together.
This recipe is prepared with artichokes, finely sliced and cooked in pan, flavored with white wine and enriched with some light besciamella. Each layer is then enriched with fresh mozzarella cheese. You can also add some Caciotta cheese as well.
Autumn and spring are the season for artichokes in Italy and there are different varieties (see for more info carciofi stufati). Seasonal cooking is always the best, because vegetables are picked ripe, tastier and richer in nutrients. They are just plain better!
LASAGNE CON CARCIOFI (LASAGNA WITH ARTICHOKES)
Preparation time: 1 ¼ hours       Baking time: 25-30  minutes            Servings: 4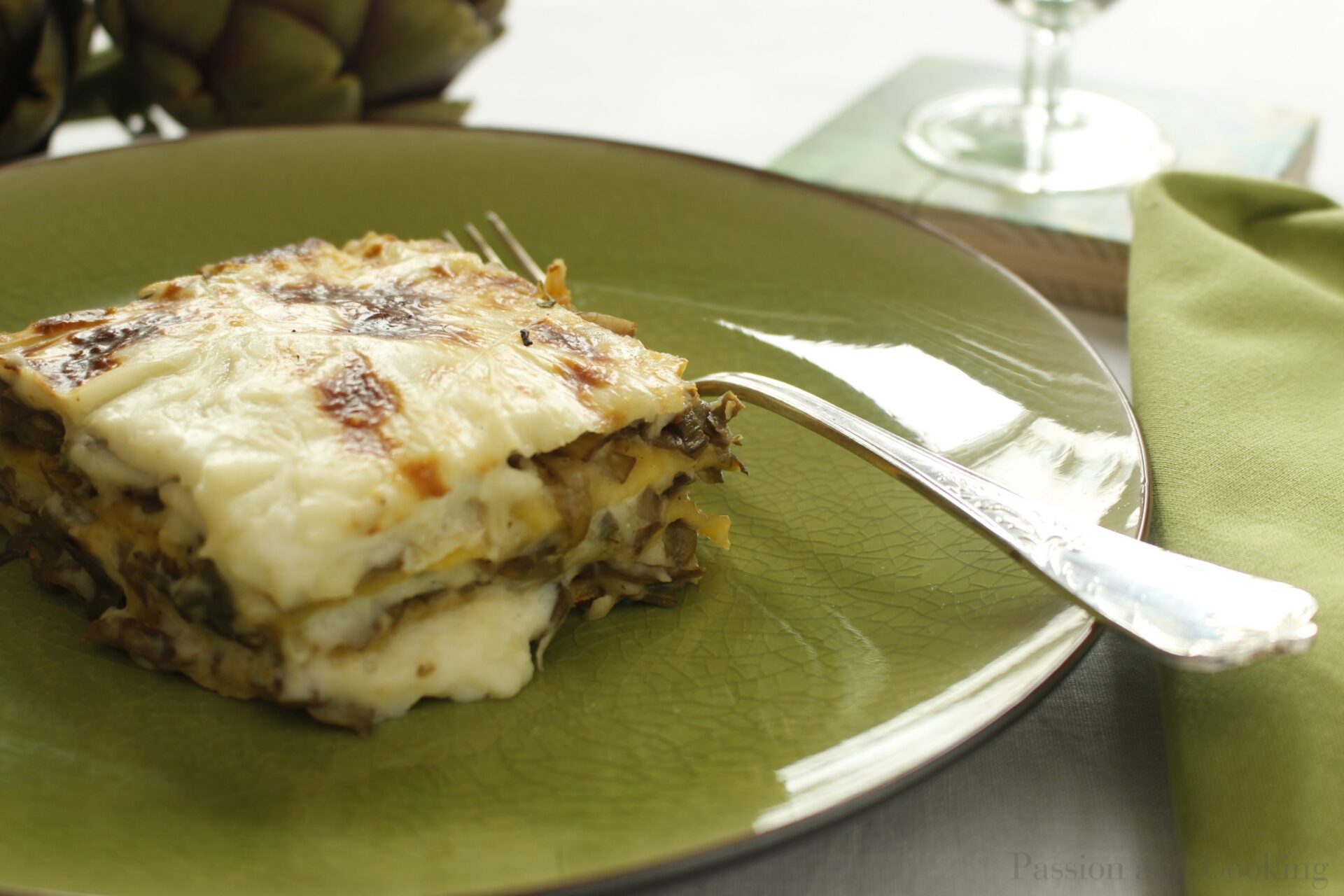 INGREDIENTS
6-7 large globe artichokes
1 lemon, juice of
4-5 tablespoons olive oil (extra virgin)
120 ml (1 cup) dry white wine
1 liter (2 cups) besciamella as described in light besciamella sauce
250 g (9 oz) fresh mozzarella cheese, diced
Grated Parmesan cheese
6 fresh pasta sheets (20x10cm , 8X 4 inches) as described lasagna with bolognese sauce
Salt and freshly ground pepper
DIRECTIONS
1. Clean the artichokes as described in carciofi stufati. Remove the outer leaves of the artichokes using a sharp, solid paring knife, starting from the wide base and going around with a spiral movement like you are peeling an apple. Cut away a part of the long stem leaving only 4 cm (1 ½ inch). Slice off about 2 cm (¾ inch) from the top of the artichokes. Wash under running water and place immediately in a large bowl with water and 1 tablespoon lemon juice to prevent discoloration. Continue with the rest of artichokes. Let soak in the water for a few minutes. Cut in half and remove the choke itself (the fine, hair-like filaments) and cut into thin slices. Place in a nonstick skillet with the olive oil and cook on medium heat. Add the wine and cook for a few minutes. Cover with a lid and cook until they become soft on medium-low heat. (You can do this step the day before in order to have the artichokes ready when you prepare the lasagna)
2. Preheat the oven to 180°C (350°F)
3. In an 11-cup baking pan (23 cm x 18 cm; approx. 9 in x 7 in), spread a paper-thin layer of besciamella. Arrange the pasta sheets side by side, covering the besciamella in the bottom of the baking pan (about 2 lasagna sheets). Cut the pasta, if necessary, to make a complete layer from side to side. Spread some cooked artichokes (about ⅓) evenly on top of the pasta, followed by some mozzarella (about ½) and a layer of besciamella (about ⅓), some Parmesan and another layer of pasta. Repeat this process until you have a total of three layers of pasta and finish with the remaining artichokes and besciamella. Bake for about 25-30 minutes, until top is brown and bubbly. Let it rest at room temperature for about 8-10 minutes before serving. Sprinkle some freshly-grated Parmesan on top and serve warm. – Paola