This is one of the best desserts for chocolate lovers who want to enjoy the intense flavor of chocolate in a light dessert. This is one of my favorites!
Did you know that strawberries and chocolate, when enjoyed with a glass of champagne, is one of the most aphrodisiac combinations around? It is a perfect treat for a romantic dinner, such as Valentine's Day. Chocolate, the so called natural "Love drug" and one of the top ten aphrodisiac foods, is definitely an excellent choice when celebrating this holiday. Chocolate is rich in antioxidants, flavonoids and minerals read more in the Mamma Mia! Diet book).  Strawberries, on the other hand, are rich in vitamin C and potassium, folic acid and also contain some iron and fiber. So strawberries provide essential vitamins and minerals needed to supply energy and keep the fires burning! Additionally, in an interesting study researchers pointed out that the effect of the scents present in certain dry champagnes, particularly blanc de blancs, replicate the female pheromones! Intriguing!
These strawberries are too delicious to resist: one leads to another (una tira l'altra). The succulent and sweet flesh of the strawberries blends with the bitter flavor of dark chocolate, creating a unique taste. I recommend using dark chocolate, but, depending on your taste, you can substitute it with milk or even white chocolate. If you want something fancier, you may enrich them with some chopped hazelnuts, almonds or white chocolate. I am a dark chocolate lover, therefore I prefer my strawberries covered with only dark chocolate.
FRAGOLE RICOPERTE DI CIOCCOLATO (CHOCOLATE-COVERED STRAWBERRIES)
Preparation time: 15 minutes                Cooling time: 40 minutes                        Servings: 4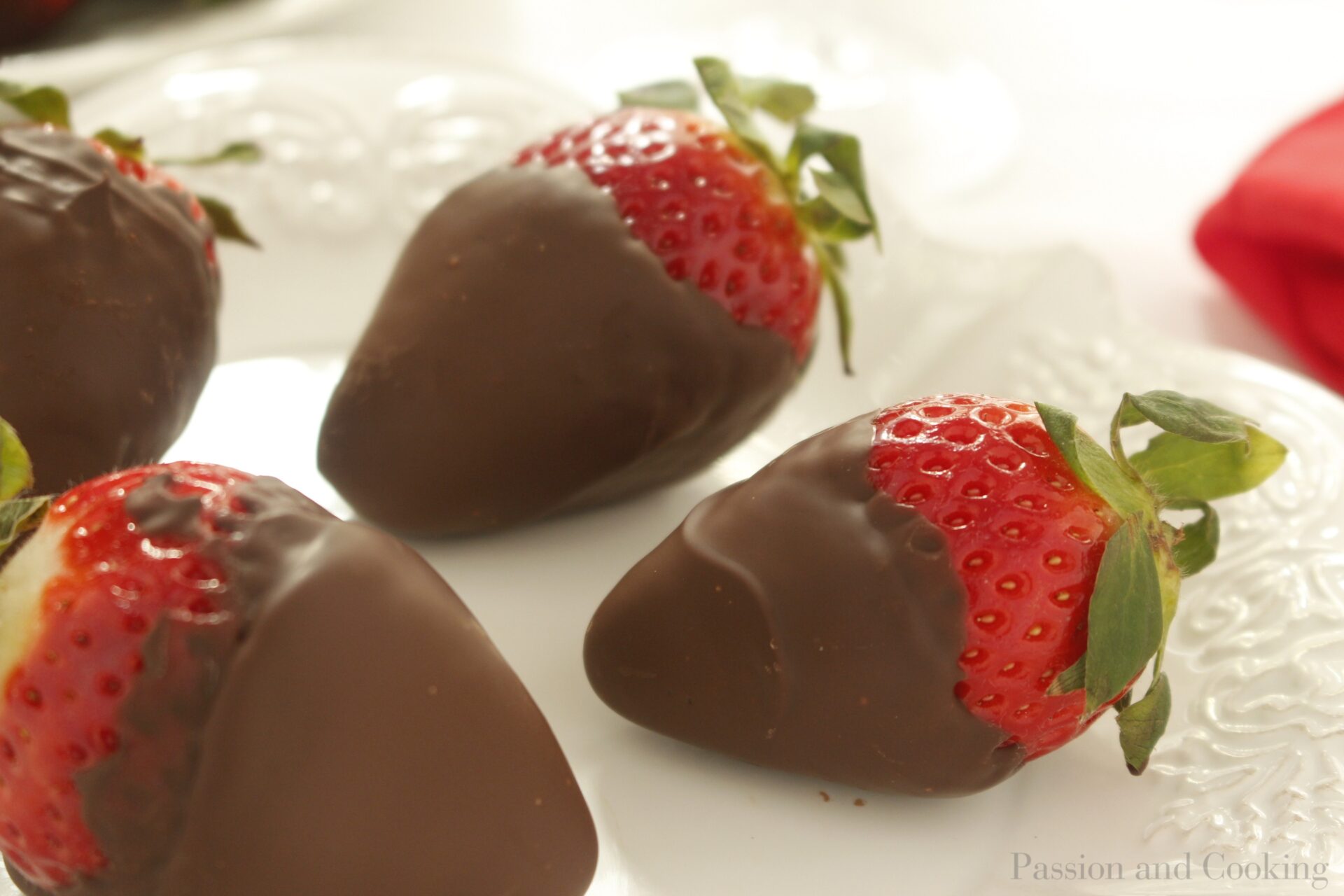 INGREDIENTS
12 large strawberries (about 360 g, 13 oz)
250 g (9 oz) dark chocolate (70%)
Equipment
Double-boiler and sauce pan
Heatproof spatula
Tooth-sticks
Kitchen paper
A piece of Styrofoam
DIRECTIONS
1. Rinse the strawberries under cool running water and gently pat dry with kitchen paper. The strawberries need to be completely dry before dipping into the chocolate otherwise the chocolate coating will not stick very well. Insert a toothpick into the top of each strawberry
2. On a cutting board cut the chocolate in pieces. In a double-boiler and saucepan bring the water to simmer, add the chocolate and let melt, stirring occasionally with the spatula. Remove the saucepan from heat. Let cool until the chocolate reaches a temperature of 45°C (115°F) measured with a cooking thermometer
3. Dip one strawberry at a time in the chocolate by holding the toothpick. Turn and twist the strawberry in the chocolate to completely coat it. Be careful to leave a band of red strawberry at the top, peeking out from chocolate.
4. Let cool by turning upset down and inserting the toothpick into a piece of Styrofoam covered with kitchen paper (about 30-40 minutes, depending on the temperature of the room). You can place the strawberries in the fridge to speed this process. – Paola