Apple fritters are originally from the northern region of Italy known as Trentino Alto Adige, but nowadays they are enjoyed all over Italy. They are prepared with simple ingredients such as flour, water, beer, sugar and apples, the most typical fruit of that mountainous region.
These fritters are prepared all year long, but especially for Carnival. In Italy Carnival is the most joyful festival of the year, when you are allowed to indulge in sweet temptations (better if homemade). Each region has its own specialty, for example chiacchiere, tortelli, graffe, fritters and many more. You can choose whatever you prefer.
Apple fritters can be enjoyed as a snack – kids love them – or as a dessert. I remember making apple fritters with my mom as an afternoon snack when I returned home from school. They are easy and fast to prepare.
FRITELLE DI MELE (APPLE FRITTERS)
Preparation time: 30 minutes                                                             Servings: 4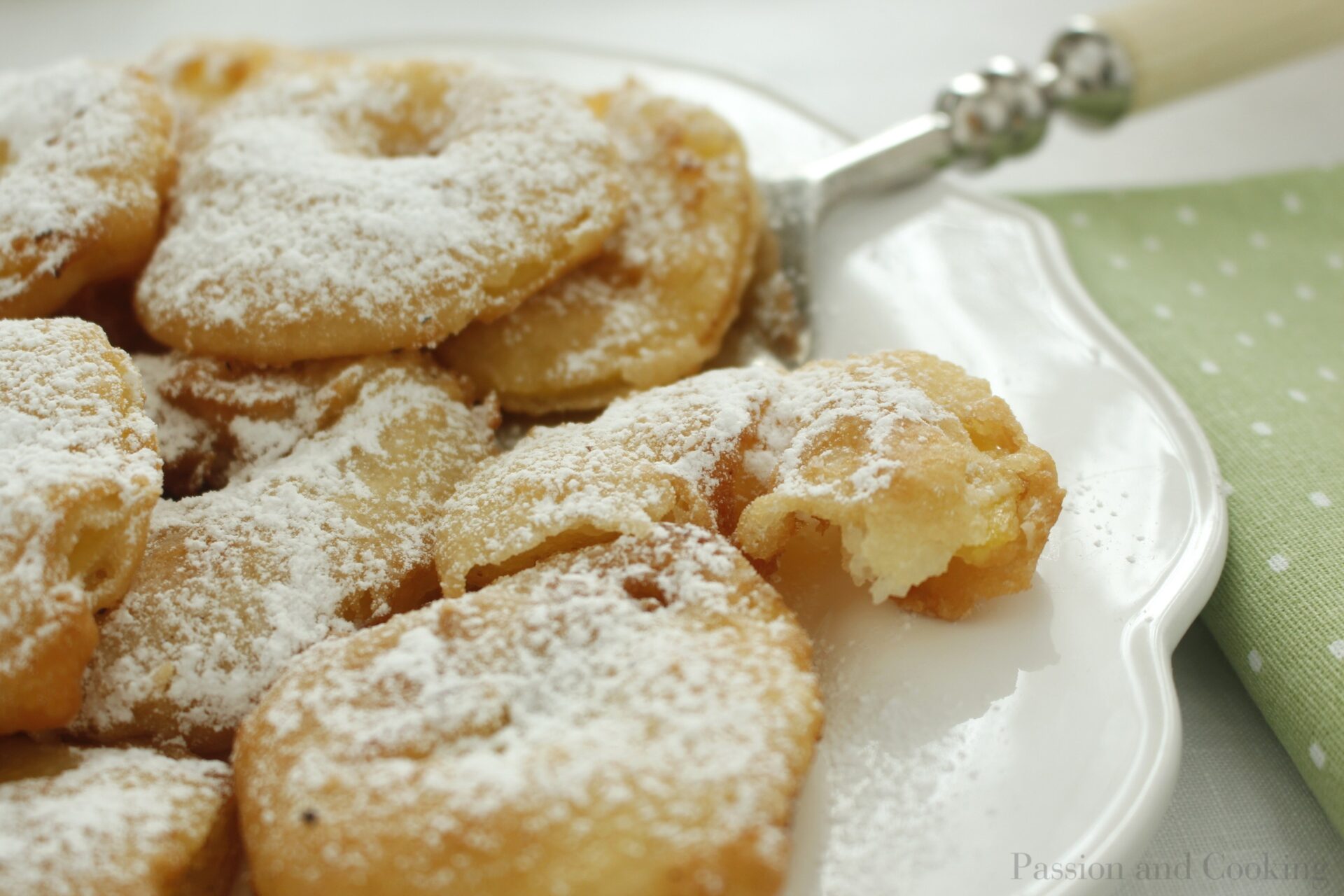 INGREDIENTS
300 g (2 cups + 2 tablespoons) flour
3 tablespoons sugar
1 pinch of salt
2 tablespoons melted butter (about 28 g)
240 ml (1 cup) light beer
180 ml (3/4 cup) water
2-3 apples (about 650 g, 1 ½ pound)
1 lemon, juice
Olive oil or peanut oil for frying
Powder sugar
DIRECTIONS
1. Peel and core the apples. Slice into rings 5 mm (less than ½ in.) thick. Add some lemon juice to prevent discoloration
2. Pour the flour into a bowl, add the sugar and mix well
3. Add the butter, beer and water. Gently mix with a spoon until a smooth batter forms
4. Add a pinch of salt
5. Heat the oil in a heavy pan to 175° C (350 °F). Pat dry the apple rings with some kitchen paper and dip into the batter, then place into the oil (2-3 at time). For best apple fritters, you must control the oil temperature: it should not be either too cold or too hot. You can cook 2-3 apple fritters at a time, to avoid cooling the oil. Also make sure that the fritters do not stick to each other and do not get too brown.
6. Transfer with a slotted spoon to paper towels to drain and dust with some powder sugar. Serve immediately while still warm. – Paola