This cake is a real treat for lovers of both chocolate and hazelnut, crunchy on the outside and soft inside. The preparation is easy and fast. It is a gluten and lactose free cake because it contains only corn flour and hazelnut milk.
It is a treat for your palate and your good spirits. Chocolate is obtained from the tropical tree Theobroma Cacao and contains several substances that are associated with ecstasy and happiness, a similar feeling as when you fall in love. Chocolate, the so called natural "Love drug" and one of the top ten aphrodisiac foods, is definitely an excellent choice when celebrating Valentine's day.
Chocolate is rich in antioxidants, flavonoids and minerals read more in the Mamma Mia! Diet book.
Hazelnuts are tasty and healthy as well rich in unsaturated fats, high content of vitamin E and antioxidants. It is highly recommended to eat one or two nuts a day!
Happy Valentine's Day!
TORTA AL CIOCCOLATO E NOCCIOLE (CHOCOLATE HAZELNUT CAKE)
Total preparation time: 1 hour          Baking time: 40-45 minutes               Servings: 8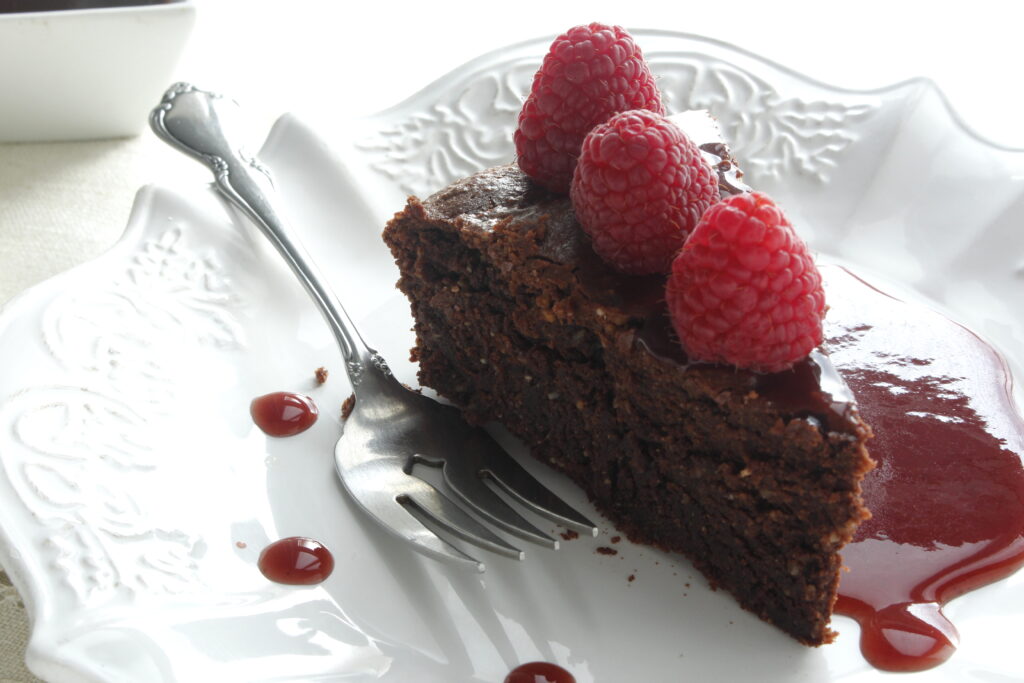 INGREDIENTS
170 g (6 oz) granulated sugar
5 medium eggs, separated
1 pinch of salt
280 g (10 oz) toasted hazelnuts, finely ground
320 g (about 11 oz) dark chocolate (70% cocoa)
90 ml (6 tablespoons) hazelnut milk
2 Tbsp corn flour "fioretto", very fine flour like corn starch
Raspberries sauce (see pistachio semifreddo recipe)
DIRECTIONS
1. Preheat the oven to 160°C (320°F) and set oven rack to middle position. Line the bottom of a springform pan (24 cm, about 10 inch) with parchment paper
2. Beat the sugar and egg yolks with an electric mixer until pale and creamy. Add the hazelnut milk and mix gently with a spoon
3. Melt the chocolate in a double-boiler
4. Add the ground hazelnut, melted chocolate and corn flour to the egg mixture. Mix well.
5. Beat the egg whites until stiff, then fold gently into the mixture with a spatula.
6. Pour the cake mixture into the pan and bake for 40-45 minutes.
7. Cool on a cooling rack, remove from the pan and serve with fresh raspberries and sauce. – Paola