One of my favorite autumn/winter veggies is pumpkin. I love its sweet and chestnutty taste. I even eat it just baked plain, all by itself.
Pumpkin is a very good and healthy choice of food, an excellent source of beta-carotene (pro-vitamin A), a good source of fiber and minerals. Pumpkin is low-calorie and contains lots of water, thus a perfect ingredient to use when slimming down.
Pumpkin makes these nuggets a perfect and colorful dish for vegetarians, but also for "carnivores" too. These can be served as a tasty side dish or as an appetizing starter and cocktail. Crunchy outside and soft inside, they are delicious and healthy as well, rich in good nutrients and are easy to digest. I like them plain, but you can get creative and also try them with a creamy sauce of melted fontina cheese mixed with Gorgonzola cheese.
I prefer baking the nuggets rather than frying, because you need less fat and the resulting dish is obviously lighter and healthier.
POLPETTINE DI ZUCCA (PUMPKIN NUGGETS)
Total preparation time: 40 minutes          Baking: 20 minutes           Yields: 15/16 nuggets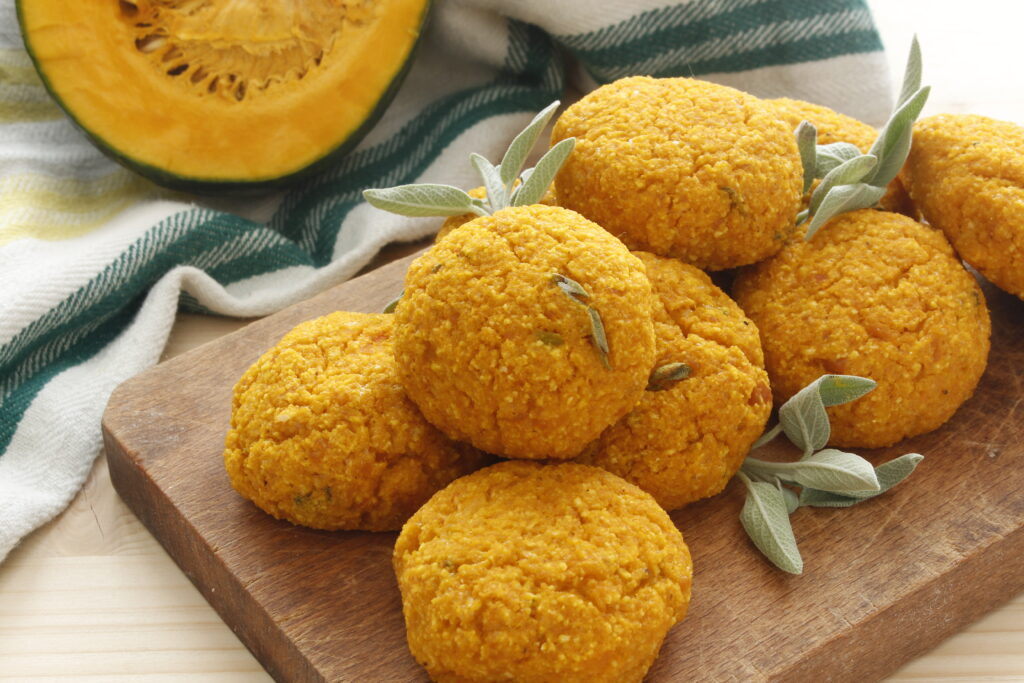 INGREDIENTS
500 g (18 oz) cooked pumpkin (Cucurbita maxima or butternut)
80 g (½ cup) bread crumbs
100 g (1 cup) Parmesan cheese, grated
1 medium egg
5-6 fresh sage leaves, finely chopped
Sea salt, freshly ground pepper and nutmeg to taste
DIRECTIONS
1. Heat the oven to 200 °C (375°F). Set the oven rack in middle position. Place some parchement paper on a baking sheet
2. Wash, cut and clean the pumpkin, and remove the seeds and filament. Cook in a pressure cooker for about 10 minutes. Remove the skin and mash with a fork. Set aside until cool
3. Place the pumpkin in a large bowl, add the breadcrumbs, Parmesan, egg and sage. Mix well
4. Season with salt, pepper and nutmeg. Mix well
5. Make about 15-16 nuggets using a tablespoons and place on the baking sheet
6. Bake for about 20 minutes, until cruncky outside. Remove and let cool on a cooling rack. -Paola