Last week, having a nice walk in the woods, I picked some delicious porcini mushrooms (in English cep mushrooms). Their scent and flavor are unmistakable and, rightly, they are considered as one of the world's finest mushrooms. In this season of the year, I use porcini in many recipes: risotto, pasta, soups, side dishes and irresistible pies.
This recipe is easy to prepare and tasty to enjoy. It can be served either as an appetizer or main course, accompanied by salad. The flavor of porcini fits perfectly with the delicate taste of mascarpone cheese. The topping of seasoned, toasted bread crumbs gives a touch of color and a crunchy taste.
This pie will certainly not disappoint you with its appetizing and autumn-time flavor.
TORTA SALATA CON PORCINI (SAVORY PIE WITH PORCINI MUSHROOMS)
Preparation time: 1 hr+15 minutes             Cooking time: 40 minutes                Serving: 6-8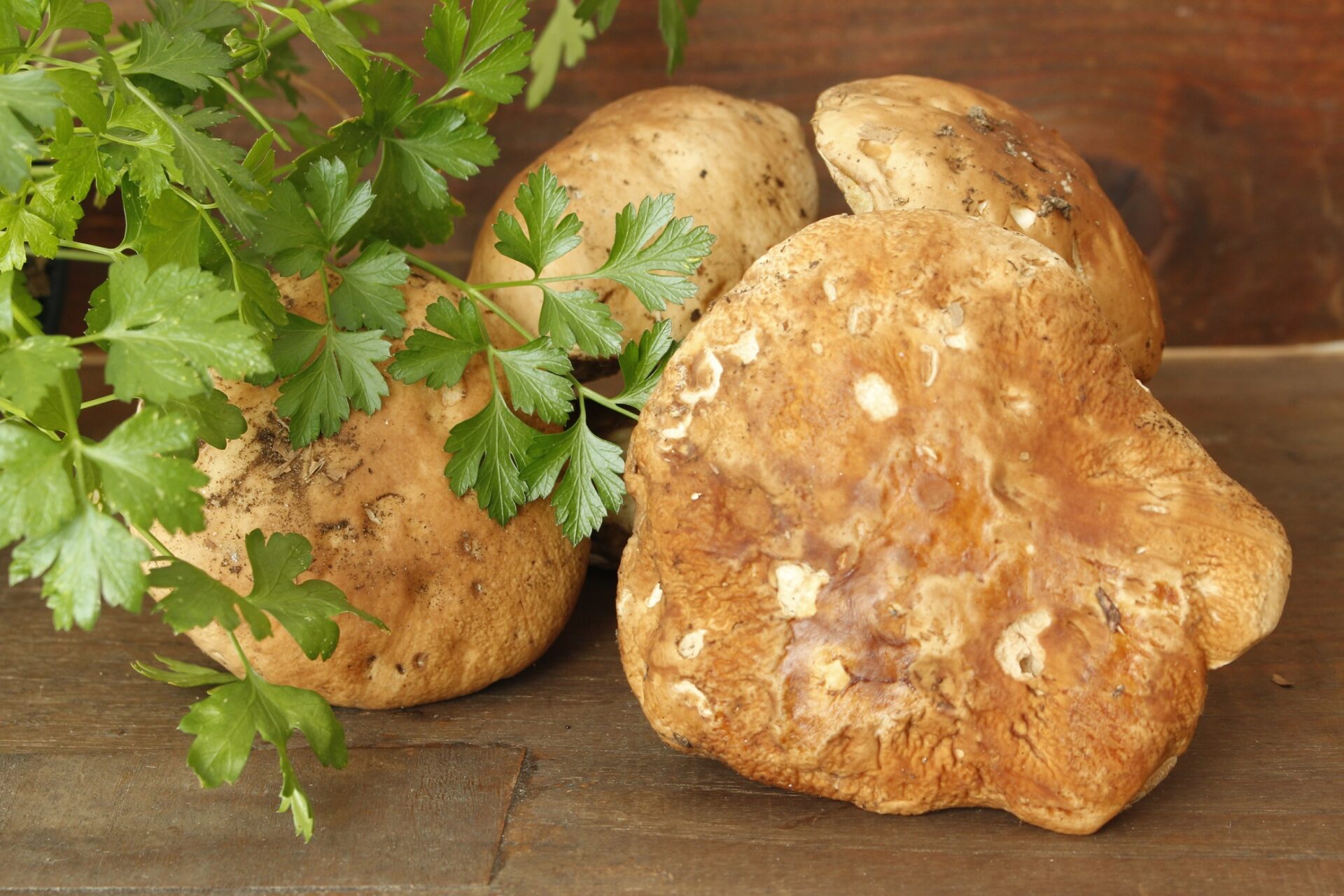 INGREDIENTS
Brisé dough (see kale pie recipe)
Dried beans for baking
Filling
55 g (2 oz) unsalted butter
1 medium onion, finely sliced
550 g fresh porcini mushrooms, washed, dried and sliced
½ lemon, juice
4 tablespoons grated Parmesan
2 tablespoons fresh parsley, finely chopped
200 g (7 oz) mascarpone cheese
3 eggs
Salt and freshly ground pepper
Topping
55 g (2 oz) butter
150 g (1 cup) bread crumbs
3 garlic cloves, finely chopped
1 organic lemon, grated zest
3 tablespoons fresh parsley, finely chopped
DIRECTIONS
1. Prepare the dough according to the kale pie recipe
2. Preheat oven to 180°C (350°F)
3. Once the dough has rested, roll it with a rolling pin on a floured surface to 2-3 mm (1/8 inch) thickness. Transfer the dough into a ceramic pan (25 cm, 10 inch) in diameter, puncture the bottom with the tines of a fork and cover with baking paper. Fill with dried beans and bake for 10 minutes. Take out from oven and remove the paper with beans. Put back in the oven and cook for 4 minutes. Remove and let it cool on a rack
4. Prepare the filling. Melt the butter and sauté the onion over medium-low heat until it is translucent. Add the mushrooms (see preparation in risotto ai porcini), lemon juice, salt and pepper. Cook over medium heat for about 5-7 minutes, until the mushrooms are tender. Add the parsley and remove from heat. Put aside
6. For the topping melt the butter in a skillet, add the garlic, bread crumbs and parsley. Cook over medium-high heat, stirring frequently, until the bread crumbs are crispy but not burned. Put aside
7. In a large bowl whisk the mascarpone cheese with the eggs, add the mushrooms and Parmesan cheese, then mix. Pour the filling into the previously-prepared base. Cover with the topping
8. Bake for 20-25 minutes. Serve warm.- Paola