One of the things that I look forward to at the end of summer is the start of the mushroom s season in Italy. It is nice to shop in autumn at the local food market in Como (Lake Como, Italy) and see many stands brimming with delicious porcini mushrooms (in English cep mushrooms). Their scent and flavor are unmistakable, and they are rightly considered as one of the world finest mushrooms.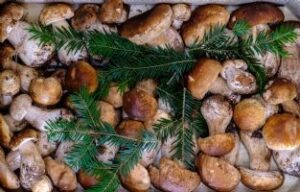 The Italian name porcini (pronounced por-CHEE-nee) means piglets – probably to the fondness pigs have for eating them. Porcini have more proteins than most other vegetables, apart from soybeans. They are also rich in vitamins, minerals and fiber. They have many health benefits and may help improve digestive health, promote weight loss and reduce inflammation.
How to select them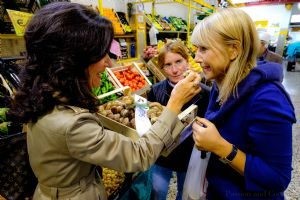 Porcini mushrooms should be firm with white stalks and brown caps,not broken. If the underside of the caps has a yellowish-brown tinge to them, the mushrooms are overripe. The other thing you should look for is signs of worms (small pinholes). Worms like them just as much as we do. Check the stalk, if there are small holes, probably the mushrooms are contaminated with worms.
In case you cannot find fresh porcini, look for dried ones. If they're crumbly, they're likely old and probably won't have much flavor. If they're sold in a jar, when you open it you should smell a strong mushroom aroma. If there's no aroma, the mushrooms aren't going to taste like much.
How to clean them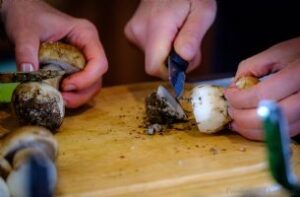 To clean the mushrooms, I suggest wiping them off with a moist cloth and to use a knife, if necessary, to remove any remaining soil. Many say not to wash them with water, but I prefer to do this. If you decide to, do it immediately before slicing and cooking, and dry immediately with kitchen paper. When cooking, it is important to use either a non-stick or steel pan, because other metals in contact with the porcini can release toxic compounds. Porcini are well suited to drying, and actually the flavor of dried mushrooms is more intense. Before using dried mushrooms, soak them in hot, but not boiling, water for about twenty minutes; the filtered water can also be used for cooking, enhancing the flavors of other recipes.
How to eat them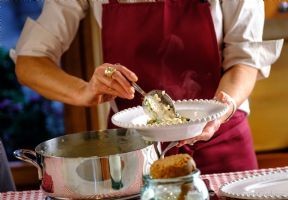 Porcini have a nutty and slightly meaty taste, with a smooth and creamy texture. Young, small porcini are tastier than older and larger ones. Certainly these mushrooms are tastier than any other cultivated white mushrooms, giving dishes a hearty, earthy flavor.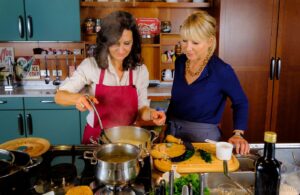 They are delicious raw, as well as when sauteed with garlic, parsley and butter, or if used in pasta, omelet, soups, meat, and risotto (one of my favorite ones). Here are some backstage pictures and the video, filmed by White Rain Films for Viking Cruises, to promote my beautiful lake – Lake Como.
It was a fantastic experience that I'm pleased to share with you, my beloved readers. – Paola