I am proud and excited to share this article about me written by one of my best students of my cooking and nutrition course. I know Rachel since she was a teenger and now she became a talented college student in one of the most prestigious  American Universities. BRAVA Rachel!
" As a young girl growing up on the shores of Lake Como, Italy, Paola Lovisetti began getting her hands and apron dirty from flour and dough. She patiently watched the women in her family knead, mix and blend various ingredients until she learned to master the skills herself. Nowadays, Lovisetti keeps these moments alive by sharing her lifelong recipes with her children. "Recipes are like stories," Lovisetti says, "you have to pass them down generation to generation, with the intention of maintaining traditions-while adding a touch of innovation."
Although Lovisetti never abandoned the kitchen entirely, she did study Pharmacy at the University of Milan, and later on received her Masters degree in Medical and Pharmaceutical Research in Brussels, Belgium. Certainly, her medical and pharmaceutical background have helped her in the understanding of the chemical aspects of healthy diets and foods. In the following years, Paola found herself organizing many dinners and small events at her home, where she had the opportunity to experiment with her cuisine. Paola's guests would often delight her with a round of applause and would curiously ask for her recipes.
Lovisetti soon realized she could turn her passion into something bigger, and started her own blog, Passion and Cooking- A taste of Italian life. This blog is where she shares her favorite recipes and tips on everything involving the cooking world. In her blog, she includes healthy meals for the families that like to have fresh foods on their dinner tables. Chicken marinated in orange juice, smoked salmon pie, and homemade strawberry jam are some of the recipes that are on her team of her culinary tales. "Passion, curiosity, and determination are the three key ingredients that kick-started my career," Lovisetti said, "you know how we Italians are, when we set our mind to something, there is nothing that can stop us." With the success of her blog, Lovisetti quickly realized this was only the beginning of a long culinary journey.
The next step in her career was the publication of her first cookbook,Love is  Eating.
In her book, she gives advice to her readers on what kind of fresh, seasonal and healthy ingredients mix together properly in order to come up with remarkable Italian recipes. Her cultural background is at the center of her book, as Italy is a country renowned for its healthy lifestyle and distinguished food; Paola's goal was to share this tradition with others all around the world. "Venturing a new business entails a lot of time and energy, two factors not taken for granted by a stay-at-home wife and mother," Lovisetti said. The entire Lovisetti family was supportive and very involved in the making of Paola's career, she says. "Nowadays, every time I enter my house, at least one or two of my children are preparing something delicious to eat. In that sense, I practices what I preach, and have become passionate about passing down family traditions," Lovisetti said. However, her children are not the only ones that she gives cooking lessons to, in fact she started giving private classes to whomever is interested in improving his or her own cooking skills.
Lovisetti's clients, are primarily foreigners that vacation on the shores of Lake Como, Italy. Paola insists that a healthy and balanced diet is effective only if supported by physical exercise and general healthy habits (such as avoiding smoking and drinking excessively). For this reason, she inserted a "healthy Italian lifestyle" section in her blog, where she also shares her daily workout routines.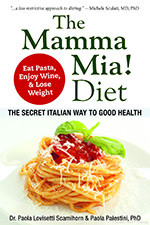 However, the topic of health is mostly elaborated in her second book: The Mamma Mia! diet, which was recently published February 27, 2018. As previously stated, in her latest work she expands the world of health related to food. In conjunction with biochemist, Paola Palestini, she created a guide to lose weight in a healthy way, by following a Mediterranean diet, which helps you feel fulfilled and completely satisfied without the need to starve. Once again, her recipes are directed towards family units. The idea is to suggest a healthy, fresh, balanced and varied combination of flavors to the public. When asked which recipe was her favorite in her latest book, Lovisetti said, "Every kind of pasta with vegetables, it can be whole-wheat or not, as long as it's pasta I love it." But when asked which recipes are the most popular in her cooking-books and blog, her answer was quite surprising. "Although my books are often seeked by people that want to lose weight, their number one choices are always desserts. People just can't give up on desserts, especially when chocolate is involved," Lovisetti said.
Paola's latest book is already a best seller on Amazon.com, and TV chef, Rachel Ray, asked for a copy of The Mama mia! Diet. Recently, Paola was asked to be interviewed by Russian NTV television.
Lovisetti's success and ability to reach a large audience is enhanced by the use of social media, as she believes in the strength of media platforms. When asked which media was more effective, Lovisetti answered that her blog and her personal Facebook page were the best forms of social media interaction, as both of them are platforms that offered her job opportunities and connections. Through these, she had the opportunity to reach out to others and connect with interesting personalities in the culinary world.
Paola's future includes many exciting things, introducing the possibility of a new book. Exciting as it sounds, Lovisetti is constantly in search of new inspirations. Who knows what will be the next best seller".
By Rachel McCrory
May 3, 2018 – Prof. Simone, Journalism NYC.